Description
In a world where we are constantly pushed to do more, faster, harder, longer than ever before, cultivating quiet can be crucial. This is where Yin Yoga can help, with advanced Teacher Louise Wallis.
Yin Yoga is slow Yoga - a deliciously deep, meditative practice, using floor-based postures that are held for several minutes at a time.
By remaining still, we can become more receptive and attuned to what's going on inside: to listen to our senses, our intuition, and the subtle signals transmitted by our bodies - which helps us to better recognise and meet our needs. Mind "chatter" is lessened and the "volume" turned down on persistent and negative thought patterns. We can become more present to ourselves.
When we practice Yin Yoga, we practice the art of letting go. We give up gripping and holding on, and learn to release physical and mental tension that we may not have been aware we'd been carrying until this moment on the mat.
The last 15 minutes of the class will be devoted to Yoga Nidra, a deeply relaxing full body meditation practised lying down, and aiming to achieve the blissful, dreamlike place in-between sleeping and waking. You may want to bring a blanket and cushion to get cosy.
Yin & Yoga Nidra is a match made in heaven. This wonderful combination is grounding, calming and revitalising, with profound energetic and emotional effects when practiced regularly.
This workshop is an introduction to Yin and Yoga Nidra; ideal for anyone wanting to de-stress & unwind, or try a less dynamic style of Yoga.
Suitable for all levels, including beginners. Yoga mats and props provided.
This workshop is part of Haringey's Festival of Learning, which has a well-being theme this year.
Please make sure you arrive on time as you will need to complete a brief registration form.
Anyone aged 19+ can come (you don't need to be a Haringey resident).
Strictly limited to 20 places. So you need to book your place now.
BEFORE BOOKING - read below!
IMPORTANT INFO: I'm hosting 5 FREE events for the Festival of Learning, BUT you can only attend ONE! ... So, if you are interested in more than one, chose the one that most appeals and book that. Thanks :-)
The venue Lordship Hub is a much-loved and Time Out award-wnning community centre in the middle of a beautiful park with the River Moselle flowing nearby.
GETTING THERE: There are lots of entrances to the park in surrounding roads. If driving, you can park for free on nearby roads and then walk. Nearest tube: Turnpike Lane. Nearest train station: Bruce Grove. Well served by buses e.g. the 243 which runs aling Lordship Lane.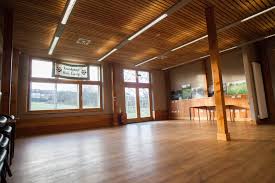 Organizer of FREE workshop: Discovering Yin Yoga & Yoga Nidra