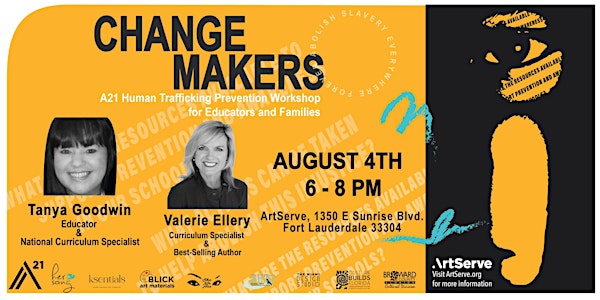 FREE WORKSHOP: A21 Human Trafficking Prevention for Educators and Families
Join us as we explore ways families and educators can take action to create Child Trafficking Free Zones in our schools and communities.
When and where
Location
ArtServe 1350 E Sunrise Blvd Fort Lauderdale, FL 33304
About this event
There is a waging war on our next generation in the form of exploitation and human trafficking. It is real, hidden in plain sight, and tearing at the social fabric of every nation, economic structure, and even our schools. Everyone has a role to play in combating this injustice.
ArtServe is joining forces with A21, one of the largest organizations in the world that are solely fighting human trafficking in an initiative that comes from the hand of local artist Rhona Rubio, whose work reflects on the social injustices of today, focusing on Modern Slavery.
An overview of the K-12 A21 Human Trafficking Prevention Education Curriculum will be presented by Tanya Goodwin and Valerie Ellery, as well as steps we can all take to help abolish this injustice.
We believe education is key to the prevention of human trafficking.
The goal of A21's educational resources is to prevent human trafficking, protect students, and offer pathways of engagement to be part of the solution to end this injustice.
This workshop is FREE and open to the public.
Participants are invited to stay for the unveiling of Rhona Rubio's participatory and interactive installation "Stories".
***Children attending are welcome in the ArtServe Gallery to take part in various artistic activities while the A21 workshop takes place.
Some of the Topics to be addressed include:
What is Human Trafficking?
How does Human Trafficking affect FL?
What are the resources available to support prevention and awareness in our schools?
What actions can be taken to help abolish this injustice?
About the Speakers
Tanya Goodwin is the National Curriculum Specialist for Her Song - Tim Tebow Foundation where she leads the educational curriculum development in human trafficking awareness and prevention, and school district relations and serves as a survivor leader mentor. During the last 17 years, Tanya held educational positions as a Teacher, Curriculum Specialist, Exceptional Student Educator Coordinator, State Testing Coordinator, Department Chairman, Mentor/Coach, and Behavioral Dean. These positions were successfully served in a range of educational settings within public, arts magnet, charter, special day schools,s and Native American reservations for the Bureau of Indian Education (BIE). While working alongside A21's team in creating a comprehensive human trafficking curriculum she directed a pilot program in Duval County Florida on the curriculum's effectiveness. Tanya's passion for fighting child trafficking is anchored in the Her Song-Tim Tebow Foundation's mission to bring Hope and Love to those needing a brighter day in their darkest hour of need by interrupting the cycle of human trafficking and leading the exploited to freedom through education.
Valerie Ellery has dedicated 32 years to the field of education in various roles as a National Board-Certified Teacher, Curriculum Specialist, Mentor/Coach, International Educational Consultant, and Best-Selling Author. Her books have been used internationally in classrooms and universities in eleven countries inspiring educators to motivate and engage today's whole learners. As A21's Global Human Trafficking Education Curriculum Specialist, Valerie co-authored A21's Bodies Are Not Commodities, and other global educational resources in the area of self-worth and human trafficking prevention and awareness impacting young adults in 37 Nations. In addition, she helped align A21's Primary Prevention Program for Thailand and works with all over a dozen countries for A21 to bring human trafficking awareness to millions of students. She also served as the Florida Department of Education, Title IV, Part A's 1st ever K-12 Human Trafficking Prevention Education Specialist. Valerie travels the globe to inspire and cultivate healthy educational environments for learning. She believes that "Education is the key to Prevention."