Description
Aromatherapy and essential oils are hot topics today. Everyone from celebrities to your next door neighbor has probably tried aromatherapy or are using it daily, but what's the deal? Why is aromatherapy so great and why should you even care? If you've ever wondered, let clinical aromatherapist Olivia MacMillan guide you through several ways aromatherapy can help and why you really DO want to learn more about. A special bonus for attendees will be Olivia's quick guide to ten must-have essential oils that belong in everyone's home apothecary.
To attend this free webinar, please use the following link:
https://attendee.gotowebinar.com/register/2356998170805117186
---
About the instructor: As a little girl, Olivia used to take the little nurse's kit that her mother had given her and cover an elderly neighbor with Band-Aids while dispensing candy aspirin. Little did she know that sweet playtime was her first step onto the path of her destiny as a healer. Olivia had a consciousness awakening in 2010 which led her to her destiny as a Reiki practitioner of which she is a Usui/Holy Fire Reiki Master. Still not feeling finished, Olivia found her calling with aromas and went through an extensive certification program to become a Registered Clinical Aromatherapist and her affinity for all things natural led her to also seek her certification as a Crystal Healer and to become an Herbalism student. Next up for Olivia as a healer, she says she wants to change the world, one balanced, self-healing spirit at a time.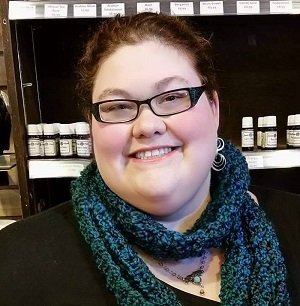 Save
Save
Save