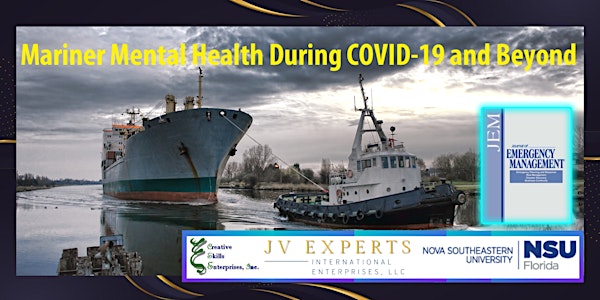 Free Webinar: U.S. Mariner Mental Health During COVID-19 and Beyond
Free English Webinar in partnered with the Journal of Emergency Management
About this event
Creative Skills Enterprises, Inc., JV Experts International Enterprises, LCC in collaboration with the Institute for Disaster and Emergency Preparedness (IDEP), Dr. Kiran C. Patel College of Osteopathic Medicine Nova Southeastern University in Ft. Lauderdale, Florida have partnered with the Journal of Emergency Management to conduct a (1-hour) FREE COVID Webinar:
U.S. Mariner Mental Health During COVID-19 and Beyond
Time
Jul 13, 2022 01:00 PM in Eastern Time (US and Canada)
Description
It will be geared towards speaking to the working audience and we feel it will be a great course at all levels, but especially those you may know at the HR , Supervisor or Management levels as a portion of the webinar will be on Tactics to combat stressors in the workplace.
Speaker: Marissa Baker, Ph.D., Assistant Professor, University of Washington Department of Environmental and Occupational Health Sciences
Abstract:
The COVID-19 pandemic has further emphasized the impact work has on mental health, particularly for essential workers. U.S. Mariners are an essential occupation who have continued sailing throughout the pandemic, and many aspects of their work could make them prone to adverse mental health outcomes including spending long periods at sea with limited access to shore leave, limited ability to communicate with home, and often long and physical work hours. Between January and July 2021, an online survey developed in collaboration with MARAD (U.S. Maritime Administration) and CDC was deployed to U.S. Mariners to assess their mental health, barriers to accessing mental health care, concerns, worries, and experiences when sailing during the pandemic, job satisfaction, and safety climate.
The survey was completed by n=1,384 U.S. Coast Guard-credentialed mariners who had sailed during the COVID-19 pandemic. The prevalence of likely depression and anxiety were 20.7% and 22.7%, respectively, among survey respondents; 8.9% of respondents had feelings of suicidal ideation. Worse mental health outcomes were seen in mariners who identified as female and in younger mariners.
Results from this study will help to prioritize interventions to minimize the mental health impacts of the pandemic in this population, and make evidence-based recommendations to improve the mental health of mariners going forward.
LEARNING OBJECTIVES:
Describe how work can impact mental health.
Describe how the COVID-19 pandemic impacted the work of mariners.
Summarize factors that may have contributed to adverse mental health of mariners during the COVID-19 pandemic.
Suggest interventions to improve the mental health of mariners during a public health emergency and beyond.
Information: csetalleres@gmail.com / (787) 627-6634