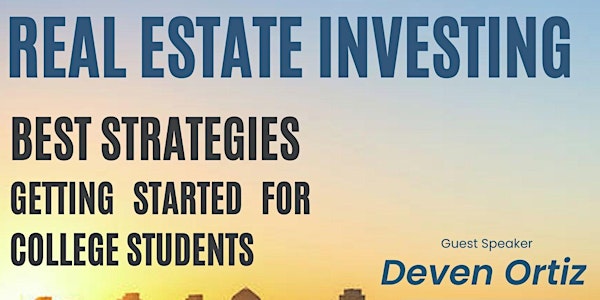 Free Webinar: Real Estate Investing - Getting Started - College Students
Wish you started to learn about real estate early in life? College students, young & old, can learn the best strategies in this free webinar
About this event
This free webinar will be the best 30+ mins of non-stop value adding information on how and why to get started in home ownership, while being in college. Yes, you can get started in real estate investing and San Diego's top lender CHRIS CATANIAII and top realtor, DEVEN ORTIZ, will be sharing the best strategies on how and why to start to plan and prepare in reaching those life goals.
Deven Ortiz and Chris Cataniaii are both ecstatic speakers that loves giving back to the community and this free webinar is one more way they can do so. This webinar will cover on why it is important to get started early in life, how one can get started in real estate investing (even with little to no $), and what steps would be best to plan in forming a road map in obtaining that first property.
Averagely, college students do not have a lot of funds to put down on a house or even obtain a loan. This webinar will enlighten any college student, young or old, on how to start to invest in themselves and strategies that can help someone in owning real estate, even in San Diego.
WHAT WILL BE COVERED IN THE WEBINAR?
This webinar will cover the clear fundamentals of getting started into homeownership. This will have very comprehensive information to gather a strong "10,000ft view" of what is possible if a college going person would like to know if it is possible to even know how to get introduced to homeownership planning.
Can a college student invest in real estate? Is it even possible to think that homeownership in Southern California is obtainable? How does real estate education and financial literacy help form better decisions on how and why to start to think about investing in real estate? Why R.E. education can help make you the best life changing moves?
How could a college student get started? What is the best starter property types and strategies in getting started? Apartments or Condos? Is house hacking a real thing?
These are popular questions will be answered here.
Practical advice and steps will be shared by our experts DEVEN ORTIZ and CHRIS CATANIAII.
Any and all people face challenges in trying to own real estate, especially in Southern California, and college students may feel as if there is not a need to even start to think about owning physical property. But this webinar will provide a great framework and some advanced level information that anyone will want to know about.
Don't miss out!
***You won't want to miss our BONUS questions! "Golden nuggets" you can't find anywhere else!***