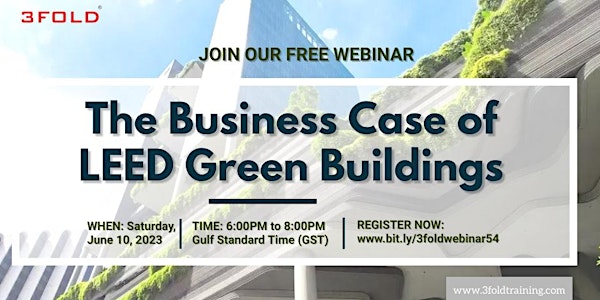 FREE Webinar on The Business Case of LEED Green Buildings
Join us for a FREE live webinar on "The Business Case of LEED Green Buildings" hosted by 3FOLD.
Date and time
Saturday, June 10 · 7 - 9am PDT
About this event
LEED, or Leadership in Energy and Environmental Design, is the most widely used green building rating system in the world and the most recognized international professional certificate, It has been recently one of the requirements for many engineering jobs. Available for all buildings, It is an essential requirement in the current competitive market for engineers; including Architectural, Civil & MEP, Management consultants property consultants, Owners, developers, etc., in general; all participants in the building design and construction process can benefit from this certificate.
In this free webinar, you will learn:
1. The main fundamental issues in Green Buildings:
• Envelope (Design, construction, and Materials)
• Instrumentation (energy Efficiency, Water treatment systems, smart technology)
• Operations
2. Cost of LEED Green buildings; (Hard Cost, Soft Cost, Operation and maintenance cost)
• Certified
• Silver
• Gold
• Platinum
3. The Bottom line of Green Buildings
4. Cost Case Study
5. Role of Government
6. Kyoto Protocol (Green House Gases)
7. Montreal Protocol (Refrigerant management)
8. What LEED Credential you can earn
9. LEED Categories of Measurement
10. LEED Examination (Getting Accredited LEED Professional)
Certifying Body:
The U.S. Green Building Council (USGBC), founded in 1993, is a private, membership-based non-profit organization that promotes sustainability in building design, construction, and operation. USGBC is best known for its development of the Leadership in Energy and Environmental Design (LEED) green building rating systems and its annual Greenbuild International Conference and Expo, the world's largest conference and expo dedicated to green building.
About the organizer
3FOLD is a specialized training institute preparing students for international certifications such as PMP, Six Sigma Green/Black Belt, CMQ, LEED GA & AP, CCP, ISO 9001:2015 QMS Lead Auditor, ISO 45001:2018 OHSMS Lead Auditor, ISO 14001:2015 EMS Lead Auditor in Virtual Live Class.