Sales Have Ended
Registrations are closed
Sorry you missed this webinar. Please "Follow" Sandra Smith to receive notices for her upcoming events.
Sales Have Ended
Registrations are closed
Sorry you missed this webinar. Please "Follow" Sandra Smith to receive notices for her upcoming events.
Learn How to Create an Income Breakthrough by Starting and Growing a Client List and Never Worry About Getting Clients Again
About this Event
Join Hundreds of Savvy Women Solopreneurs Learning How to Create an Income Breakthrough by Starting and Growing a Client List and Never Worrying About Getting Clients Again
What if you could stop worrying about how you're going to find the clients you want to work with? Imagine having an easy, smart, and comfortable way to connect with your clients so they can hire you for your expertise, and purchase your products and services. It's important for savvy women Solopreneurs to start and grow their client list so they can build trust, generate more sales, increase income, and move their business to new levels like never before.
Your peace of mind comes from knowing that your list is filled with clients who want what only you can offer them — which is — your unique solutions to their problems. Through your list, you'll build warm relationships, provide products and services they want and need, and stay top-of-mind for ongoing and repeat business.
Hands down, the #1 action step most successful Solopreneurs wish they had done sooner to grow their business and be profitable was to build their client list.
A growing list of ideal clients who are excited to hear from you — and want to work with you — is easy to build when you have the right system to make it happen. Unfortunately, many Solopreneurs aren't building their list because they don't know where to start. And, it seems that starting is the hardest part!
So, just think how much you could get done if you had a system that works for you so that when you wake up everyday you know exactly what you need to do to build your client list, and not waste one minute searching for ways to make that happen. And, on your time off, you have your system set on autopilot so it's building your list even when you're sipping your favorite drink while watching a beautiful beach sunset.
Your client list is important because it serves as a primary source for business and revenue, it has the potential to determine your future business, and, you'll never worry about getting clients again.
Sandra Smith's "How to Start and Grow Your Client List" masterclass is exactly what you need to put your business in high gear and become unstoppable.
Being a Solopreneur herself, Sandra knows exactly what keeps us stuck and worried about money. From extensive research, to studying her own past failures, and working with hundreds of clients, she has created this timely and information-packed masterclass filled with a new way to look at how to build your list. Her solutions are easy to use and quick to implement. Her focus is to get you earning money so you can do what you love and the freedom to do it.
Join us for this free masterclass and you'll learn how to:
• Get your mindset primed and ready for the new system change
• Figure out what needs to be done and in what order
• Systemize the flow of movement for growth
• Focus on what's most important
• Schedule the "path process"
• Develop crucial habits for continued success
• Connect your list with your products and services
• Tips for staying positive in times of feeling unsure
Here's the masterclass date and time
Date: Friday, November 6, 2020
Time: 11:00 am (PDT), 12:00 pm (MDT), 1:00 pm (CDT), 2:00 pm (EDT)
Location: Online using Zoom
Cost: Free
Includes: Your own masterclass workbook
Access: You'll receive an email with the webinar link prior to airing
Client testimonials
"Hats off to her, for what she's accomplished, and what she has done for the people who want to become more, and for all the people she will help in the future." - Dawn Henderson, Coaching Client
"Our session gave me a great deal to help me shape my future in more ways than I thought possible." - Jacqueline DeLisle, Workshop Attendee
"All my life, I've wanted to be a published author, and thanks to you I am going to be taking the steps to make that happen. Thank you for empowering women to reach their goals." - Laurel Cole, Conference Attendee
Can't wait to have you join me!
If you have any questions, please email info@sandrasmith.com. I'm so excited to have you be part of this amazing masterclass just for Solopreneurs!
Cheers,
Sandra, Founder of "Working Solo Made Easy"
P.S. In this upcoming masterclass: Do habits really matter? How can I stop feeling overwhelmed? Will a list bring me income?
#clientlistgrowth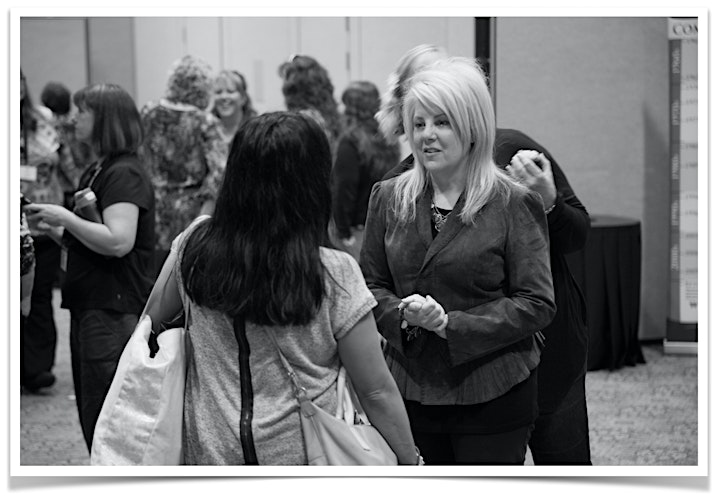 Your webinar host Sandra Smith is a certified coach, published author, creative solopreneur, entertaining speaker, and owner of Aspire Seminars. Simply put, Sandra helps women Solopreneurs create freedom and income doing what they love.