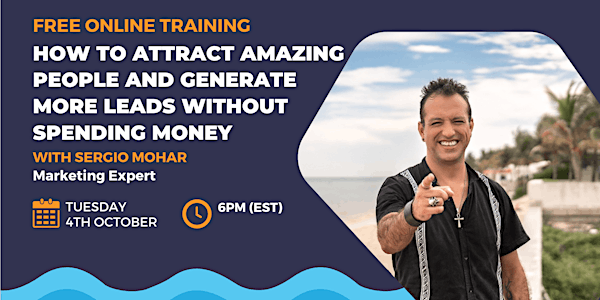 Free Webinar: Generate More Leads Without Spending Money
Find Out The Best Way To... Attract More People And Generate More Leads Without Spending Money
About this event
Reserve Your Free Place Here Now > https://www.growpdc.com/fb-webinar/
Are you a business owner or coach?
Maybe you are making one or all of the following mistakes:
❌ Copy & pasting generic sales posts on Facebook/Instagram/Whatsapp
❌ Asking people to buy your products & services before even introducing yourself
❌ Making it about yourself, instead of your customer
❌ Spamming people who have no interest
🛑 STOP NOW!
Find out the best way to:
✅ Find your ideal clients and attract the right people
✅ Connect with them on a human level
✅ Spend your time wisely online
✅ Get more leads for free and make more money
Join experienced social media marketer, entrepreneur and coach, Sergio Mohar for a free online training .
When: Tuesday 4th October 2022
Time: 6pm EST (7pm EDT / 4pm PDT)
Reserve Your Free Place Here Now > https://www.growpdc.com/fb-webinar/