Description
Aspiring and Side Gig Entrepreneurs,
Do you daydream about starting your own business?

Do you often think about quitting your job?

Thinking of throwing caution to the wind and just quitting?

Want to be a coach or start an online business and turn your passion into a paycheck?

Not quite sure how to make it happen?

Feeling scared to let go of what has become your "safety net?"


Don't quit your job just yet!
Do you know the basic things you need to have before you quit your job? Working for someone isn't all bad if it at least pays the bills. Right? But for the entrepreneurial mindset, you want to do more, have more, and see your dream at work. If not, you won't rest until it happens. I want to help you live your dream. Sooner than later, you can be on the road to turning your passion into a paycheck.
Get prepared first. Don't make the mistake of prematurely quitting if you're not clear on the basic things that can help ensure your success.
Learn these 5 Things and Be Better Prepared to Say, "Goodbye Day Job. Hello, Dream Job!"
I invite you to join me on Thursday, August 31st at 2:00 pm, when I'll be sharing five specific things you need to do that will help, including…
Why it's not enough to just quit your job.

How to know if you're really cut out to be an entrepreneur.

A 7-point business start-up

checklist—if you can't confidently check yes to the boxes, you may need a plan and need to work on your plan a little more before you quit your job.

Support systems no successful business can be without—and where to find them.
I will share the facts, not fantasy. Being in business for yourself is no joke. It is real… And it must be taken seriously. You CAN feasibly and effectively build a sustainable and fruitful business. By the end of the webinar, you'll know for sure if you're ready to drop the dream of entrepreneurship or take action building your dream.
Don't get stuck in the dream. Live the dream.
Reserve your seat for this free webinar today! Learn the 5 MUST HAVES Before You Quit Your Day Job.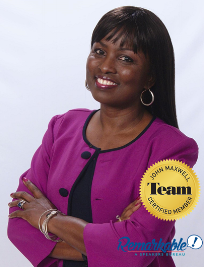 ---
ABOUT THE PRESENTER
Pat B. Freeman (aka The Dream Builder) is a Women's Leadership Empowerment Coach, Inspirational Speaker, and Vision-Builder. She is a John Maxwell certified speaker and coach, author, serial entrepreneur, and Founder of the EMPOWER 7000 initiative -- a project to empower 7000 women and girls in 2017. Pat is passionate about empowering women to achieve their Big Dreams in leadership, career development, and personal growth. Her mission is to help turn your "Inspiration into Action and Passion into Profits.
Pat is the President of NAPW Greensboro Chapter (National Association of Professional Women) – over 850,000 members nationwide. She has more than 20 years as an Administrator of Adult Education in the Community College System where she oversaw 125 faculty and staff and approximately 3,500 students annually under her leadership. She is experienced in program and staff development, preparing adults for academic success, and creating sustainable career paths. Pat is a Certified Program Planner (CPP) with LERN, Lean Six Sigma certified (Yellow Belt), holds a Master's Degree from Campbell University, and earned her B.A. Degree from Florida State University. Pat is also the proud mother of two young adult sons who were kid entrepreneurs from age 10-16.
FAQs
How can I contact the organizer with any questions?
pat@patbfreeman.com