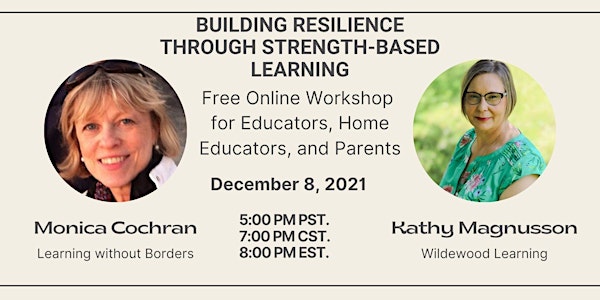 FREE WEBINAR - Building Resilience through Strength-Based Learning
Resilience is built by knowing the importance of co-regulation and the identification of strengths to support youth in reaching theirs.
About this event
Trauma-sensitive education has changed the question of looking at a person's behaviors from "What's wrong?" to "What has happened?" In this session, we take it a step further and ask, "What are the strengths of this person?"
In this interactive workshop for all types of educators, we will explore the direct effects of trauma (both big and small) and the neuroscience of the mind-body connection.
Participants will learn about the Polyvagal Theory and the implications of the theory on building positive relationships. We will explore the needs underneath the behaviors and how the Polyvagal Theory can create a deeper understanding of a person's actions. You will learn strategies to stay centered in challenging situations and create the safety needed for real learning to occur. Before identifying strengths in others, adults need to be grounded, regulated, and know their own strengths. Using a polyvagal informed lens, you can develop an understanding of behaviors and expand your view of strengths to see what is strong in others.
Kathy Magnusson, M.Ed., owner of Wildewood Learning
Top Five Strengths: Connectedness, Input, Learner, Ideation, Arranger
As a trainer, coach, and speaker, Kathy has worked with educators and youth service professionals worldwide. She is a licensed public school teacher, social and emotional learning specialist, and strengths-based leadership coach. She has provided support to young people and the professionals that serve them for over 25 years.
Kathy shows educators and youth service professionals what is needed to create safe and effective learning environments that draw upon the strengths of both adults and youth. Using a tailored strengths-based approach, Kathy gives people the knowledge and tools to uncover their individual brilliance.
Kathy is a licensed middle and high school teacher and has a master's degree in education from the University of Minnesota. Additional credentials include training in adverse childhood experiences, creating trauma-sensitive resilience schools, non-violent communication, and strengths-based education and leadership.
She supports education and youth service professionals in developing their own social and emotional learning skills to create positive relationships. Kathy has found that when educators and professionals are allowed to change their perceptions, a ripple effect occurs, changing the learning experience for all. Learn more about services at wildewoodlearning.com
Monica Cochran, M.Ed, Owner of Learning Without Borders
Monica has worked with children, parents, and other adults in a wide variety of educational, hospital, and business settings for over 40 years. She has been active in alternative education since 1978, home-educated two of her children, and has worked with other home educating and distance learning families since 1997.
Monica has vast experience in helping learners of all ages and abilities enjoy learning. She especially enjoys using her top strengths of learner, input, ideation, connectedness, and individualization to help learners who have unique talents and challenges develop their strengths and create learning experiences that work for them. Currently, Monica works with learners, caregivers, and educators worldwide through her private practice, Learning Without Borders. See her website learningwithoutborders.com for more information about the services she offers.
Monica earned a Bachelor of Science degree from the University of Pittsburgh in a multi-disciplinary program in child development, social work, and early childhood education and a Master's Degree from Eastern Michigan University in special education with certifications in learning disabilities and emotional impairment. She earned a Primary Montessori Certification from the American Montessori Society and is an SSP (Safe and Sound Protocol ) and Advanced DIR (Developmental, Individual Differences, and Relationship) practitioner. Since 1997, following her youngest son's auto accident, she has also supported survivors of brain injuries and learners with other health and developmental issues as they redesign their lives.
Organizer of FREE WEBINAR - Building Resilience through Strength-Based Learning