FREE Visionista Tele-Conference - I'm sharing my "secret sauce!"

Friday, December 7, 2012 from 2:00 PM to 2:45 PM (EST)
Event Details
The Holidays are Here -
& I have a special gift for you! 
My first ever Visionista Tele-Conference!
Less than 2% of women entrepreneurs achieve 1 Million in annual revenue. That means 98% can benefit from learning my Million $ success formula. 
So many people have asked for my "Secret Sauce" that I'm hosting a special year end call to share my Million $ Formula. The call is FREE for Visionistas - "Women who know who they are, where they are going and guide their tribe of leading ladies to the top." That's YOU.
Call in to learn the  V-I-S-I-O-N Formula. It's the formula I created to generate millions in annual revenue, become a best selling author, host my own radio show w/ thousands of listeners and sell out my book launch 2 weeks before the event!  Yes, there's a formula to making that happen. Get off the Gerbil wheel and call in - we're not getting any younger here. Your dreams are waiting!
If this sounds as good as a pair of rockin' shoes (that you can actually walk in) than register for your FREE ticket. Did I mention the call (not the shoes) is free?
Once you learn my formula, rinse, lather and repeat! You can apply it to any dream you have for your business, or your life. If you want to go further, attendees on the call will have the opportunity to join my 2013 Visionista Mastermind and Visionista 3 part Webcast , all at special holiday dealy-o's for women who are ready to have a VERY BIG YEAR in 2013! Note: The call will be recorded. Register for a free ticket and I'll send you the link. 
Inside every woman is a Million $ Party Girl.
 milliondollarpartygirl.com
Organizer
Lynn Bardowski
Lynn Bardowski overcame fear, failure, and mommy guilt to become a multimillion-dollar revenue-generating direct sales entrepreneur. And, according to a recent Wall Street Journal Small Business report, "Just 1.8% of women-owned businesses generate more than $1 million in annual revenues." That puts Lynn at the top of her game.
Bardowski, an innovative direct sales expert, empowers women entrepreneurs to embrace their inner Visionista, which she describes as "A woman that knows who she is, where she is going, and guides her tribe of leading ladies to the top."
As a sought-after keynote speaker for direct sales and woman's conferences, best selling author, and blogger, Lynn has been featured on Fox, CBS, Huffington Post, Forbes and more. Her recognition includes Enterprising Woman of the Year, Top 25 Women to Watch, Top 100 Small Biz Influencer and Trailblazer of the Year.
Lynn's success has allowed her family to live an amazing life, with many dreams come true. They've stood together on the edge of the Grand Canyon, viewed Paris from the top of the Eiffel Tower, sped through the Everglades on an airboat, hiked through a rain forest, experienced Phantom of the Opera in London & NYC and savored Tapas in Barcelona. A Jersey girl at heart, Lynn enjoys putting her toes in the sand and celebrating life with her growing family, including husband Bill, two married daughters and granddaughter Vivian.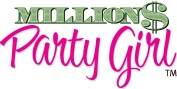 www.milliondollarpartygirl.com