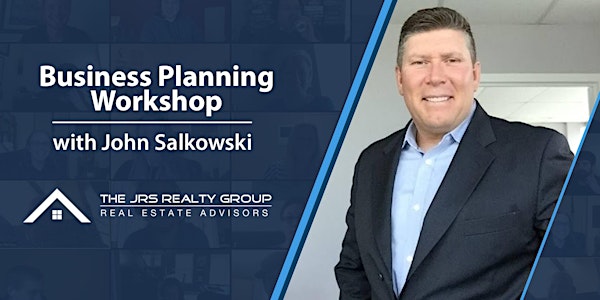 Free Virtual Real Estate Agent Business Planning Workshop
I'll help you write a marketing and business plan that will get sellers and buyers to call you to buy or sell their homes.
About this event
****USE CODE VIP AT CHECKOUT TO RECEIVE A FREE TICKET****
There are not many homes for sale and the market is super competitive. In fact, there are only around 2,500 homes on the market. Pre-COVID there were 10,000 for sale, to give you some perspective.
It can be frustrating in this business trying to make a living selling real estate when there's little commission consistency. If you have a real estate license (or you're thinking about getting one) and you'd like some direction to make a consistent living selling residential real estate here in the Greater Philadelphia area, I invite you to attend my upcoming business planning workshop.
I'll help you write a marketing and business plan that will get sellers and buyers to call you to buy or sell their homes.
Here's what we're going to cover in our 3 hours together on Zoom (so you can attend from anywhere and save on expensive gas prices) so that you leave with a simple, one-page plan that you can take home with you that outlines exactly what to do to generate seller leads and taking listings in this hot real state market. This workshop is designed for relatively new agents - especially if you've been in the business for less than one year (or thinking about getting your license).
Here's what we'll cover together:
1. Lead Generation
How to work the people you know and your past clients with a 36 touch
How to hold an open house that attracts sellers instead of just buyers
How to follow up with internet leads who request information online
How to generate internet leads who want to buy/sell
2. Lead Conversion
You'll see how my CRM is set up to make sure no leads fall through the cracks
How our CRM follow-up process works to move people to an appointment and contract.
Exactly what to say to people when they express interest in buying or selling a home.
3. Listing and Buyer Presentations
What to send out in a package before a listing/buyer appointment to position yourself as the expert in your real estate market
The components of the listing/buyer presentation and how to present it, in order
How to choose the best comparable sales to help the seller zero in on a price
4. Listing Process
Review our step by step checklist of what we do once we get a listing contract
How we promote our listings (professional photos, staging, and marketing)
How to correctly receive and negotiate offers by having a 'presentation of offer' system in place
5. Transaction Process
Step by step checklist for compliance and wowing the client through escrow
Types of turbulence that can come up along the way and how to resolve it
Making the other agent your ally and not your adversary
6. Past Client / Reviews
When to ask for an online review and to make sure it gets done
The first 90 days after closing to secure a client for life (referrals and repeat business)
How to hold client events and the best ones that bring in new business for you
How to leverage your events with sponsorships
7. Personal Development Tips
The morning schedule that I follow to be productive
How to journal and write your goals each morning and every night for attainable success
How to stay motivated and energized through a healthy lifestyle
How to create different accounts for taxes/fun/wealth building and saving money
Books and resources that helped me to get from where you are to where I am
*BONUS* You'll leave this workshop with an attainable and successful roadmap that will lead to a consistent income.