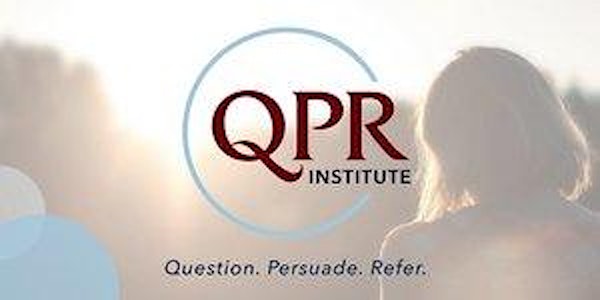 FREE Virtual QPR Suicide Prevention Training
QPR Suicide Prevention for Indiana Residents
About this event
QPR: Question. Persuade. Refer.
Three steps anyone can learn to help prevent suicide.
We can all save lives. The QPR mission is to reduce suicidal behaviors and save lives by providing innovative, practical and proven suicide prevention training. The signs of crisis are all around us. We believe that quality education empowers all people, regardless of their background, to make a positive difference in the life of someone they know.
Ask a Question. Save a Life.
QPR stands for Question, Persuade and Refer- the 3 simple steps anyone can learn to help save a life from suicide. QPR is not a form of counseling or treatment. Rather it is intended to offer hope through positive action. By learning QPR you will come to recognize the warning signs, clues and suicidal communications of someone in trouble and gain skills to act vigorously to prevent a possible tragedy.
The QPR method was developed specifically to detect and respond to anyone emitting suicide warning signs. However, independent researchers and federal agencies who funded the original assessments of QPR have suggested that the QPR intervention could be useful in far broader application. Indeed, QPR is widely applied as a universal intervention for anyone experiencing emotional distress. QPR meets the requirements of HEA 1430- Suicide Awareness and Prevention.
Goals of QPR Gatekeeper Training:
Recognize the Risk Factors, Warning Signs and Protective Factors of suicide
Know how to offer hope
Know how to get help and save a life