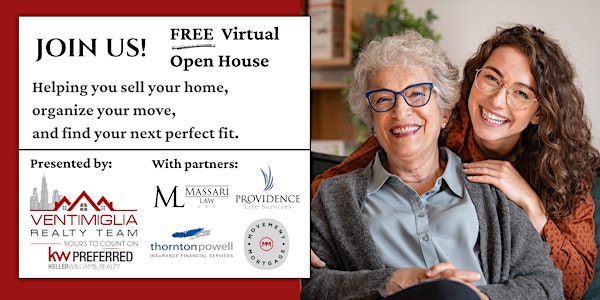 FREE Virtual Open House
Join Ventimiglia Realty Team and our partners for a Virtual Open House on downsizing, the moving process, and finding your next perfect fit.
About this event
Ventimiglia Realty Team is a full-service real estate agency located in Orland Park, IL. With decades of experience serving the senior housing market, we know that downsizing and selling your home is a family process.
In this FREE Virtual Open House we will go over the services provided by Ventimiglia Realty Team and our partners to seniors and families searching for their next perfect fit. Whether you are just starting to think about selling your home or ready to make your move now, this Open House is for you.
Thank you to Debbie DeMaar of Providence Life Services, Rocco Massari of Massari Law, Mike Kerrigan of Movement Mortgage, and Bill Zerinskas of Thornton Powell Insurance for joining us.
To get in touch with questions or for more information, please visit ventimigliarealtyteam.com, call us at 708-505-5111, or email us at admin@ventimigliarealtyteam.com.