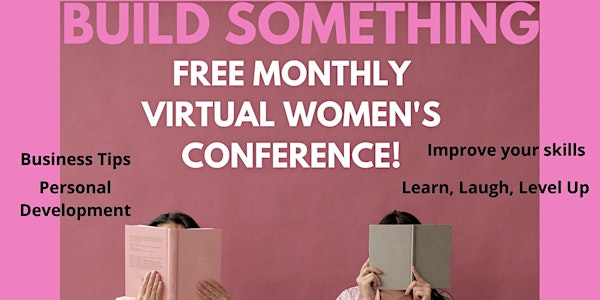 Free Virtual Monthly Women's Conference
A monthly virtual women empowerment conference to educate, motivate and inspire women who have goals so BIG they are SCARY!
About this event
We will have breakthroughs and build ups!
Every month we will learn and celebrate GROWTH together as BOSSES! 💎
Some topics will include but are not limited to
-Girl, protect your energy at ALL costs!
-So what, they aren't for YOU!
-Say it with me 🗣"Boundaries & Balance & Limitations!" The Boss BBL!
Things you need to know about this event
-Sports references will be used!
-You will have to work because we are challenging you!
-You just might cry because there will be some breakthroughs!
Every session will include:
-Tap into both personal AND professional development
-A Motivational/educational video
-A Book referral
-A Professional Contact
-Action Steps to follow
-Homework
This is a10 Month Series
March - You are the HBIC!
Second Quarter
April - Think like a MOGUL!
May - Let's get a BBL!
June - Goal Setting!
Third Quarter
July - There is power in what you SAY!
August - Leaders Lead!
September - Business Playbook!
Fourth Quarter
October - Go hard or go HOME!
November - Sales is EASY!
December - SEXXY Breakthrough!