Sales Have Ended
Registrations are closed
Thank you for registering! You will be receiving an email with a Zoom link soon. Your Kit will be mailed out the first week of October!
Sales Have Ended
Registrations are closed
Thank you for registering! You will be receiving an email with a Zoom link soon. Your Kit will be mailed out the first week of October!
Hosted by Mulvane Art Museum of Topeka, Kansas in Partnership with Tonantzin Society FEATURING Phoenix Based Artist: Rosie Posie Collective
About this event
FREE Virtual Dia de los Muertos Mini Nicho Workshop!
Hosted by Mulvane Art Museum of Topeka, Kansas in Partnership with Tonantzin Society
Featuring Phoenix Based Artist: Rosie of Rosie Posie Collective
Celebrating Dia de los Muertos with a FREE Virtual Mini Nicho Workshop! You can choose from one of 2 dates:
Wednesday Oct 20 from 6-8pm Central Time OR
Friday Oct 22 from 6-8pm Central Time
"Dia de los Muertos—the Day of the Dead—is a lively Mexican holiday that draws on indigenous traditions. Assured that the dead would be insulted by mourning or sadness, Dia de los Muertos celebrates the lives of the deceased with food, drink, parties, and activities the dead enjoyed in life. Altars are commonly made that are decorated in honor of a lost loved one. This mini nicho is an item that you can add to your altar!"
ABOUT THE ARTIST:
Rosie (aka Rosie Posie) is a Latina Phoenix Native. She's a full time RN but art is her soul.
"I consider myself a Creative Engineer. I used to consider myself a chaotic artist because so many things interested me. I wanted to learn it all & I often felt like an 'irresponsible' artist. Shouldn't I just focus on one path? But then I realized it's the engineer side of my brain that wanted to learn it all. I wanted to teach what I learned. I wanted to learn how things fit together, I wanted to learn what adhesives worked best on a particular project, I wanted to learn what materials combined aesthetically, I wanted to learn which paint products were permanent and which were smeary.
And I did just that. I spent my life experimenting and engineering my art with the knowledge I had gained.
This is what I wish for you. I want to teach you what I have learned so you can create your own art based on your own style.
Sometimes that is what keeps us stuck. We all have an internal drive to create. Half of the battle is knowing WHICH products to use. Combine your knowledge of techniques with your style and you have ART. YOU are creative. Let me help you bring your vision to a finished product!"
Follow her on Instagram: @rosieposiecollective
Website: www.rosieposiecollective.com
Sign up for this workshop is based on a First Come First Served Basis and is limited to:
ONE (1)Registration per household/physical address
You will receive:
(1)Mini Nicho Kit + Virtual Teach-Along via Zoom
Limited Spaces Available.
Please note! Start Time is at 6 - 8 p.m Kansas/Central Time Zone.
PLEASE READ ALL DETAILS!
***NOTE*** The kits will only be shipped within the United States. Shipping is via USPS FIRST CLASS mail. Disclaimer: We are not responsible for delayed delivery once the package has been shipped. All kits will be shipped the first week of October to ensure timely delivery to your home. If delays cause you to not receive your kit in time, you will still be able to participate in the recorded video after the LIVE event. Email me with any questions.
Unfortunately we are not currently shipping kits outside of the U.S.
Instagram: @RosiePosieCollective
Facebook Group: Rosie Posie Collective
This Mini Nicho/Altar kit is made out of laser cut birch wood!
This is a kit I carefully designed, cut and created myself.
The kit contents will allow you to create your nicho in several styles. Extra leftover pieces can be used in other projects or future workshops!
Rosie Posie will guide you through the process & will assemble this with you in real time!
OR! You can just watch the virtual workshop and then make the Nicho on your own time with the recorded video! It's up to you! But this should be a fun and relaxing time of creation for you!
This completed project measures approx. 2" x 2" inches. This measurement is approximate, dependent on how you decide to assemble your project.
Please note that you will need to be able to work with small objects.
You will have the option to add a mini eyehook to both the top and/or bottom if you wish. This allows you many options to create an ornament, jewelry component, charm, key chain, etc. This makes a beautiful and unique gift or keepsake. You can add photos or special baubles you have saved. You can also just add this Mini Nicho to your personal altar as a stand alone piece of art. The ideas are endless!
This nicho is three-dimensional, kind of like a diorama you made when you were a kid! There is depth and a layered effect which you will create yourself!
Each kit comes with all laser cut birch wood pieces needed to assemble your Mini Nicho, decorative add-ons, eyehooks, wood glue, small bit of sand paper, mini paint daubers & decorative paper. Instructions & materials list will be sent to you via email.
Preparation (things to have in advance):
1. Acrylic Paint. Paint markers (I use oil based pens) or even Sharpie markers work too! Fine tipped pens are helpful for getting into small spaces.
2. Small paint brushes with fine tip for detailed areas.
3. Paper towels/soft cloth for messes or to dry paintbrushes
4. Small jar of water for rinsing paintbrushes
5. Scrap paper to work on to protect your surface
6. Optional: Charms, jewels, bits/baubles that you would like to add to your Nicho, glitter glue, varnish/sealant.
During this workshop, you will have video access to the instructor while she creates and assembles this kit along with you!
In order to create the mini nicho in real time during the course, you will need to have your kit "in hand". If you receive your kit late, you can still watch and assemble it at your leisure with the provided recorded video (it will be available after the LIVE workshop is completed. You will receive a link for it).
To attend the event you will receive ZOOM LINK 15 minutes PRIOR TO EVENT START. If you do not, please email me at: hello@rosieposiecollective.com and it will be sent to you immediately.
If Zoom kicks you out of the session due to poor connection, give it a few minutes to reset and log back on. Technical difficulties happen to us all!
The video will be saved and you will have access to it after the workshop is over.
This course is simple enough for most ages (with some adult help!).
We will most likely be done before the 2 hour time slot is over. You can log off of the event at anytime.
The kit is tiny, so be sure to have sufficient lighting and the ability to work with small objects.
Chat will be available during the course. Please mute yourselves. Video is optional.
If you have any questions prior, during or after this class, please contact RosiePosie at: hello@rosieposiecollective.com
Enjoy! Look forward to having you!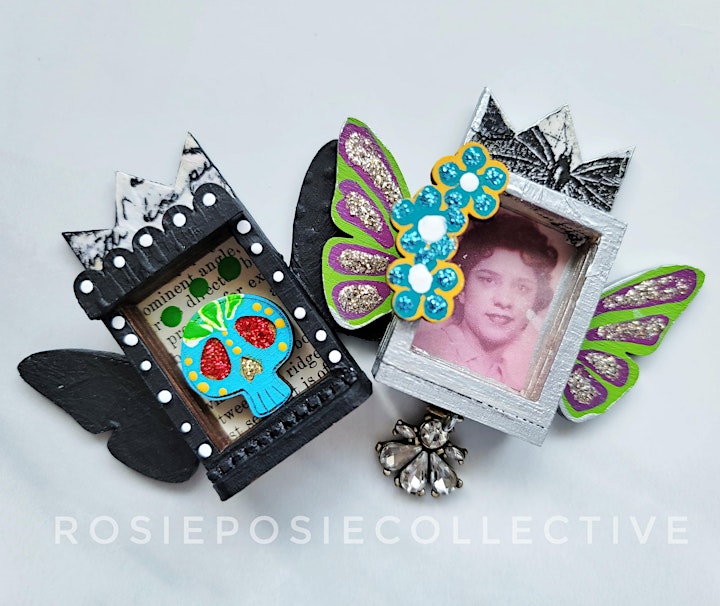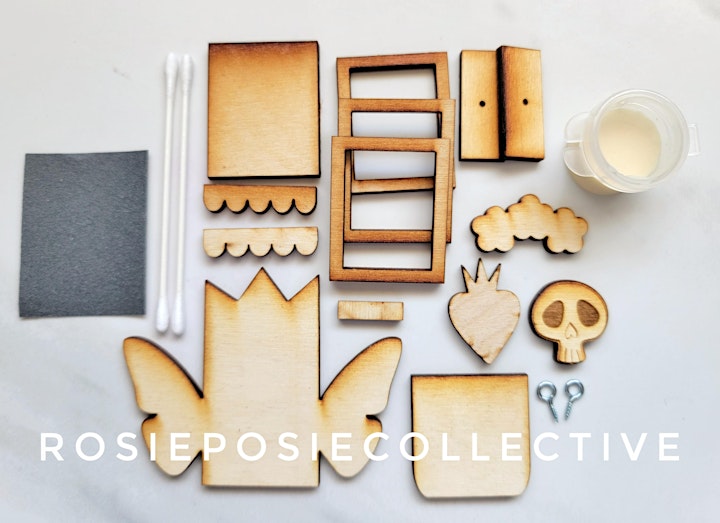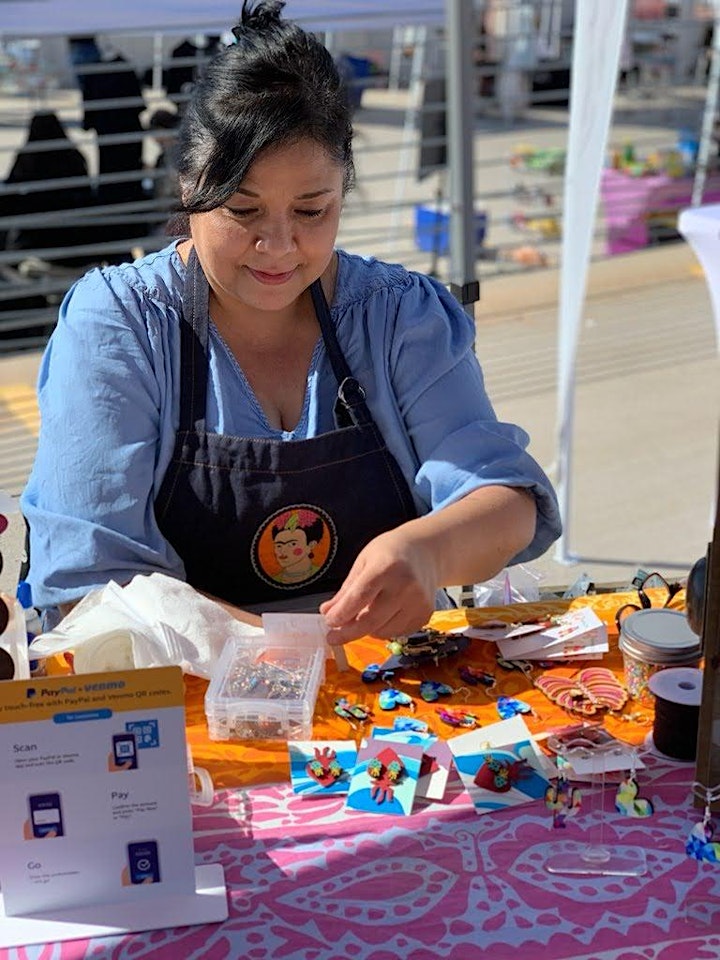 Other Mini Nichos from Past Workshops
(pictured below)