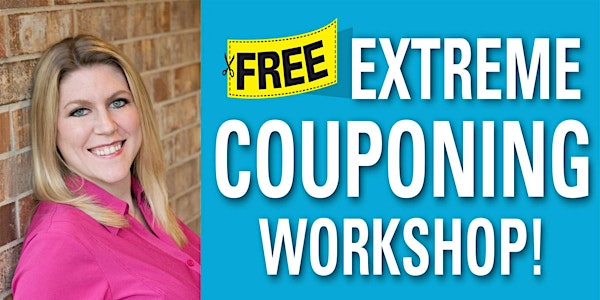 FREE Virtual Coupon Class on Thursday, July 22, 2021 at 1:00pm!!
Learn how to coupon at the grocery store and save HUNDREDS of dollars a month without spending a lot of time!!
About this event
Free Online Couponing Class
Thursday, July 22, 2021
 at 1:00 pm CST
Want to learn to coupon the EASY WAY?!?!
Chelsea Bradley is an expert couponer, in the Houston area, who has been all over the United States teaching THOUSANDS of people how to coupon. She will share in-depth tips, tricks and secrets you can use to save hundreds of dollars on groceries. We all have to buy groceries, come learn the REAL way to do it on a shoestring budget. Don't miss this chance to change your family's monthly budget forever. You won't believe how easy it is for you to save hundreds per month after attending this amazing FREE workshop!
Learn how to use just your Sunday newspaper coupons and internet access to start saving money now.
Don't miss this fun, free event! It will change your world!
Online Webinar - Class will be conducted via Facebook live so that you can interact with the presenter to ask any couponing questions you have.  It will last approximately 90 minutes. The link for the class will be e-mailed to you after you register.
You do not have to have Facebook to attend!! If you are not a Facebook user, you can still access the live webinar and watch. **you will not be able to comment live on the webinar without a Facebook account, but you can always e-mail the presenter with any questions at: couponingforeveryone@gmail.com. We always love to help and would enjoy hearing from you!****
**Freebies!!**
We are so EXCITED you are attending that all registrants who attend the class will receive our pro couponer's downloads kit just for signing up and attending the webinar!
Chelsea will be giving away gift cards and freebies in the class as well to get you started on your coupon journey!
SAVINGS ARE MEANT TO BE SHARED: Make sure your friends attend this free event with you. Who do you know looking for a major budget windfall? They will need to register, too.
Post a link to this registration page on your Facebook! 
https://texassmartbuys2.eventbrite.com
Can't make this one? Come to one of the other dates/times!
Tuesday, July 27th at 7:30 pm- RSVP here
Saturday, July 31st at 10:00 am- RSVP here
 Brought to you by Texas Smart Buys and the Houston Chronicle