Description
Free Verse is a new innovative, exciting poetry battle that challenges the norm of the standard poetry slam. Free Verse is a topic-based round by round competition that showcases poetic versatility, style and performance. This will be an action-packed show with guest star judges from the CLT art scene, plus the audience will get to VOTE as well.
Our main event will be Apoetnamedsuperman VS Sir Abstraxxx !!!
These two poets are well known in the city for their writing and performance styles and impact on the Charlotte poetry culture. Sir Abstraxx is well-known for eclectic and romantic charisma writing style and performance techniques. Apoetnamedsuperman is known for powerful performance style and clever metaphors.
Our opening match will be Porsha the Poet vs Keiosha !!
These two women are powerful writers and great performers, they both have featured or performed in major poetry venues and events in the city. This match up will start the night off in the right way!
This will be a match that you do not want to miss!
Who will be the Free Verse Champions???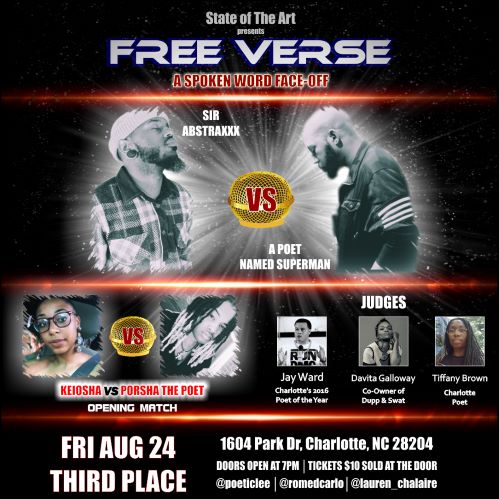 Tickets will be sold at the door as well. General admission $10.

Event: August 24th
Location: Third Place Coffee- 1604 Park Dr. Charlotte, NC 28204
Time: Doors open at 7 pm. Show starts at 7:30pm
This event is brought you by the creative geniuses of State of the Art.
#poetsofinstagram #freeverseclt #poetrycommunity #thingstodoinCharlotte #cltevents
#charlottepoetry #barz #cltcompetition #augustevents #charlottecreatives #whoyoudosupport?
#poets #battle #writersofinstagram #clt #thirdplace #poetrylovers #supportlocal #cltarts
#fridaynight #goodvibesonly
Organizer of FREE VERSE: SIR ABSTRAXXX VS. APOETNAMEDSUPERMAN :: Spoken-Word FACE OFF
State of the ART is a creative agency that organizes art events with the goal of challenging, shaping and empowering the art culture and patrons throughout the city.We also strive to provide a unique platform for artists to showcase their talents. This organization was created by Lauren Chalaire, Rome D' Carlo and Poetic Lee. Follow this movement!