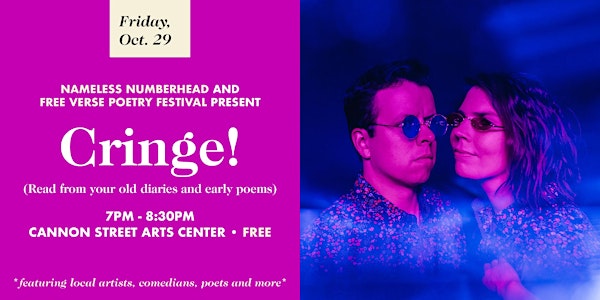 Free Verse Festival presents Cringe!
Read from your old diaries on stage! The show features local artists, comedians, poets and more. Hosted by Nameless Numberhead.
When and where
Location
Cannon Street Arts Center 134 Cannon Street Charleston, SC 29403
About this event
Do you have your old diaries or poetry journals? Now that you are a 'grownup,' it'll be cool to read from them on stage, right? Not embarrassing, right? 🤔
Welcome to Cringe, a fun celebration of your former self. Hosted by Nameless Numberhead.
Those who plan to attend will need to provide proof of full vaccination OR a negative COVID-19 test taken within 72 hours of the event. Vaccination proof and the negative test can be shown through a printed card or a photo on a mobile device.
NAMELESS NUMBERHEAD is a hyperbolic comedy duo with over 400 years of experience. Maari Suorsa and Henry Riggs have toured colleges and festivals all over the country and have been featured on Funny or Die, San Francisco Sketchfest, NY Sketchfest, Cincinnati Fringe, Dallas Comedy Festival, TedX Charleston and more. Charm City Comedy Project calls Nameless Numberhead "one of the most compelling sketch shows we've ever hosted." More at www.numberheadcomedy.com.