Free University Etiquette Lesson Newcomers Class Tuesday 6 PM University Dining Club Austin Etiquette Food Tours 512 821-2699

Tuesday, July 18, 2017 at 12:00 PM (CDT)
Event Details
Free University Etiquette Lesson Newcomers Class Tuesday 6 PM University Dining Club  Austin Etiquette Food Tours 512 821-2699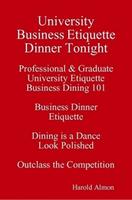 Dining is a Dance
Look Professional and Polished
One on One
University Business Etiquette Dinner Tonight
Daily                      7:00 AM   by appointment
Daily                   11:00 AM   or  12:00 PM
Nightly                  6:00 PM   or  7:00 PM
Sun                      10:00 AM  or  6:00 PM
Group
Casual and Fine Business Dining Etiquette 

Fri                        3:00 PM
Sat                     10:00 AM  or  6:00 PM
Tue                      6:00 PM    Newcomers class
Breakfast  Etiquette
Box Bag Container Meal Etiquette
Happy Hour Hors d'oeuvre Etiquette
Business Dinner Etiquette
Lessons or Questions call Harold Almon 512 821-2699 
Register Eventbrite.com  Be at Ease School of Etiquette  
Dining is a dance. Learn business dinner etiquette. First meal and gratuity included. Young professionals and graduate students, there comes a time to transcend dining hall behaviors and coffee shop ways, and to display business table manners - the rules of etiquette used in business dining. It is a ritual at which more than eating is done.  Look polished. Outclass the competition.
Search Eventbrite Be at Ease School of Etiquette or 512 821-2699
When & Where

Restaurants near University of Texas Austin
2108 Robert Dedman Drive
Austin, TX 78705


Tuesday, July 18, 2017 at 12:00 PM (CDT)
Add to my calendar
Organizer
Harold Almon Etiquette Coach and Independent Living Life Skills Coach Director Career Services Be at Ease School of Etiquette Austin Texas Get University Etiquette Outclass the Competition 512-821-2699
 I, Harold Almon, Etiquette Coach, 512-821-2699, provide etiquette coaching, independent living skills coaching, business etiquette dinner lessons, business dining lessons, job interview dining etiquette, Austin food tours (AEP),  university dining club lessons,  university etiquette lessons, career services etiquette lessons, resume writing services, job preparation four packs, and etiquette guides, and life skills guides that let students enhance performance, gain acceptance with a new perspective, and acquire soft skills keys to advance, be at ease,  get university etiquette, and outclass the competition. 
Austin TX · http://baesoe.com
Free University Etiquette Lesson Newcomers Class Tuesday 6 PM University Dining Club Austin Etiquette Food Tours 512 821-2699