Description
The same training is also offered on Saturday March 23rd in downtown Denver (at the Breckenridge Brewery). Go over to this page to see that event.

Join us to learn how to create mobile apps for iOS, Android, Windows Phone or mobile browsers! We will review the important mobile features of standards like HTML5 and CSS. You will learn how to use a mobile UI framework (jQuery Mobile), how to package your app with a native bridge (PhoneGap) and how to add app features with a Backend-as-a-Service (open-source Usergrid). By the end of the workshop, we will have built a fully-featured app, ready for release on the app store, without having written a single line of server-side code!
Due to the success of our last events in LA and Austin (50 attendees and 20+ people on waitlist), we will offer 2 one-day sessions in Denver! Join us on either the Friday in Lone Tree or Saturday in downtown Denver: we will cover the same content on both days.
Program
8:30am: Doors open — registration and coffee
9am–noon: "Build your first mobile app with HTML5 and a Backend-as-a-Service"
Intro HTML5 and Mobile Apps
Building your static app (jQuery Mobile)
Load data dynamically into your app (Usergrid)
Make your code run as a native app on your Android or iOS device (PhoneGap)
Lunch (provided by Apigee)
1pm–4pm: "Building Social, Local or Gamification into your app"
We continue building our app from the morning and extend it in the direction of your choice!
Adding user accounts to your mobile app
Building social features: friends, follows and newsfeeds
Geolocation / Gamification (2 hours, pick your own adventure block from 2 prepared training scenarios, with room to make this app your own: you can choose to add a currency system, a one-one-one messaging system, a geotargetting element, etc. — allowing you take the morning app in a number of different directions)
4pm: Demo time and drinkup! (Beers provided by Apigee)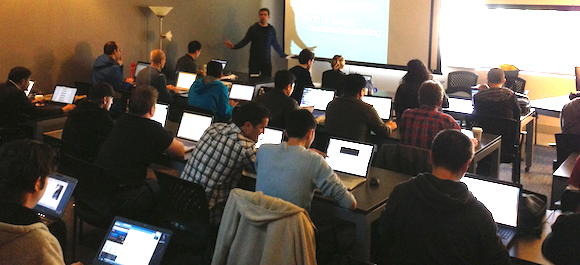 "Excellent presentation and group! A+" –c-i-e-l-o
"Shout out to Apigee for putting on a great intro to html5 mobile apps today" —@paulruescher
"Great workshop today! Left with new knowledge, great tips, a new book & a couple cold ones.......ALL FOR FREE!" —@terrance_unce
"I learned new stuff. Training was interactive. The instructor was really helpful" —Gil S., Los Angeles
"It was fantastic. Well done!" —Linh P., Los Angeles
"The material was great. The presenter knew his stuff and was interested in seeing his
students succeed." —Nate B., Austin
"Building smartphone apps was a mystery until I attended this one. So thank you for the
introduction" —Ved S., Austin
"I liked that individuals of diverse backgrounds and skill sets were all able to attend and
learn something. Can't think of anything I disliked." —Jeff T., Austin
"Not a sales pitch, very practical info, immediately useful" —Kye H., Austin
Pre-Requisites
a basic understanding of HTML & CSS will be useful,
some programming experience (understanding of variables, functions, HTTP, etc.) in any language.
Please come to the training with a mobile IDE (XCode, Eclipse for Android, etc.) and the latest PhoneGap/Cordova installed — the steps are documented in these guides. Please make sure you can launch the default (empty) PhoneGap project into your emulator: you should see the droid with the flashing green text load up correctly before you come to the training (step 5A of the Android guide, step "Results" of the iOS guide, step 5 of the Windows Phone guide).
About the Instructor
This one-day training session will be taught by Tim Anglade, public speaker, former Computer Science lecturer, and Head of Developer Programs at Apigee. Tim has spoken about app development around the world, from OSCON to Oredev & GoGaRuco, and met with mobile app developers from Silicon Valley to Seoul. He most recently gave this training in San Jose, Amsterdam, Los Angeles and Austin. You can find him on Twitter as @timanglade.