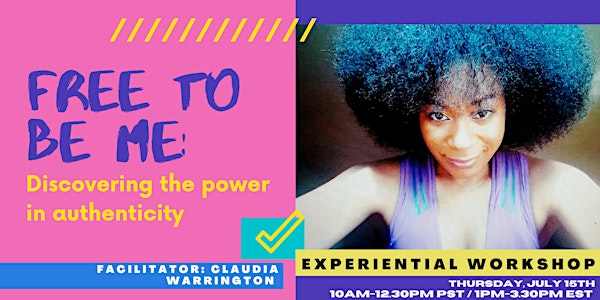 Free to Be Me: Discovering the Power in Authenticity
"Authenticity is freedom from the illusion of fear and alignment to the reality of love" Unknown
About this event
You deserve a special gift. You deserve time just for you!
Join us for this high energy experiential workshop where you'll openly explore being free (on your terms) and create your Freedom Blueprint and all the while staying true to who you are because you are enough.
No need to change what's working for you and you get to discard what's not working.
This is about positivity, belonging, fun and creativity.
YOUR FACILITATOR:
Claudia Warrington is a loving, powerful, free-spirit who loves empowering people to explore the beauty of life's journey through their lived experiences that lead to leadership mastery and personal transformation.
She endeavours to create open, safe spaces and communities where everyone is welcome and embraces "the authentic self" as a pathway to creating freedom and joy in their life.