FREE TO ALL INVENTORS AND THOSE WITH AN IDEA FOR AN INVENTION JOIN US & LE...
Description
WE ARE EXCITED TO BE APART OF MICROSOFT'S "ENTREPENEUR MONTH" .... JOIN US & LEARN HOW TO TURN YOUR IDEA INTO AN A$$ET AND GET IT INTO THE MARKETPLACE & ON NATIONAL TV AT HSN!!
FOR INVENTORS ONLY FREE WORKSHOP HELD AT MICROSOFT BY THE INVENTORS ROAD SHOW
At The Inventors Road Show® our mission is to help inventors navigate the difficult and daunting task of turning their invention into an A$$ET and getting their "Idea to Industry". Award Winning Inventor & Founder Andrea Rose
WEBSITE: www.theinventorsroadshow.com
DATE: Tuesday February 20, 2018
TIME: 6:30 PM
LOCATION: MICROSOFT, 677 Fifth Avenue 6th Floor, New York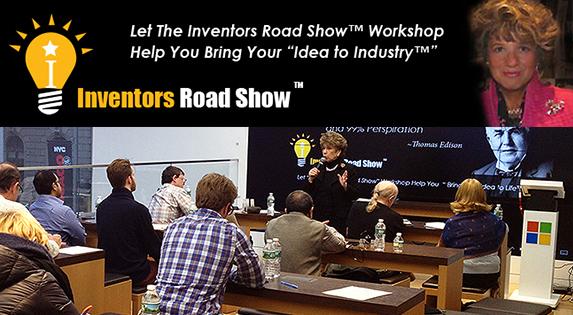 WORKSHOP TURN YOUR IDEA INTO AN A$$ET:
Learn the business side of inventing and how to take your idea and get it into the marketplace with award wining inventor and founder of "The Inventors Road Show" Andrea Rose. Turn your idea into an A$$ET and discover the steps to licensing, how to brand and manufacturer your product and make it a financial success. Discover ways to license your product without a patent or prototype to the " As Seen on TV" world. Let "The Inventors Road Show" help get your product on National TV with HSN. Find out how selling to catalogs is a great way to start-up your business...and more!!! We have teamed up with many marketing companies who are looking for that next "Big Idea" so this is an opportunity to get your product discovered!!

PITCHFEST: For those inventors who would like to learn how to "Pitch" their product you will have an opportunity to present your invention to the group. Also you will receive FREE Andrea Rose's "How to Pitch in Six Easy Steps". This is invaluable experience preparing you for the time you will have to stand in front of a potential buyer. In addition Andrea will be looking for the next "Big Idea" to present to her marketing alliances. ( Only those inventors with a provisional patent, patent pending or issued patent will be allowed to "Pitch". This is to benefit and protect the inventor.)
INVENTORS ONLY: JOIN OUR MEETUP GROUPS: We are launching in cities around the country here are several cities that we currently have our Meetup groups.
NEW YORK CITY MEETUP:
https://www.meetup.com/Inventor-Road-Show-by-Award-Winning-Inventor-Andrea-Rose/
PHILADELPHIA MEETUP: https://www.meetup.com/inventorsroadshow/
SOUTH FLORIDA MEETUP:
PALM BEACH:
https://www.meetup.com/The-Inventors-Road-Show-FLORIDA-South-Florida-Palm-Beach/
STUART: https://www.meetup.com/The-Inventors-Road-Show/
_________________________________________
PRIVATE CONSULTING WITH ANDREA ROSE:
Award winning inventor and founder of "The Inventors Road Show" Andrea Rose consults with inventors who are seeking private one-on-one consulting . To Learn More Email: events@theinventorsroadshow.com
*****************************
We would like to thank our Sponsors and Contributors who have made our mission a success!!
Microsoft
The Tesla Science Foundation
NV DESIGNS
Mo Azeez, Patent Attorney at Patnovo