Multiple Dates
FREE TICKETS - TUESDAY July 17 7pm Happy Hour LMAO ALL STARS Improv Comedy...
Description
COME BE A PART OF THE SHOW!!!
Hilarious interactive musical comedy improvised on the spot based on audience suggestions and participation. No two shows are the same as the cast takes your idea for scenes and songs. Many games invite audience volunteers on stage. Since 2002 over 6000 professional shows in Times Square and Touring Nationwide.
Hosted by Walt Frasier (Letterman, MTV etc) with special guests from HBO, CBS, NBC, Chapelle Show, etc
$25 at the door - FREE via this EVENTBRITE PAGE
Sponsored by nycomedytickets.com and corporate-comedy.us
There is a two drink minimum per guest. Food Meno also Avail.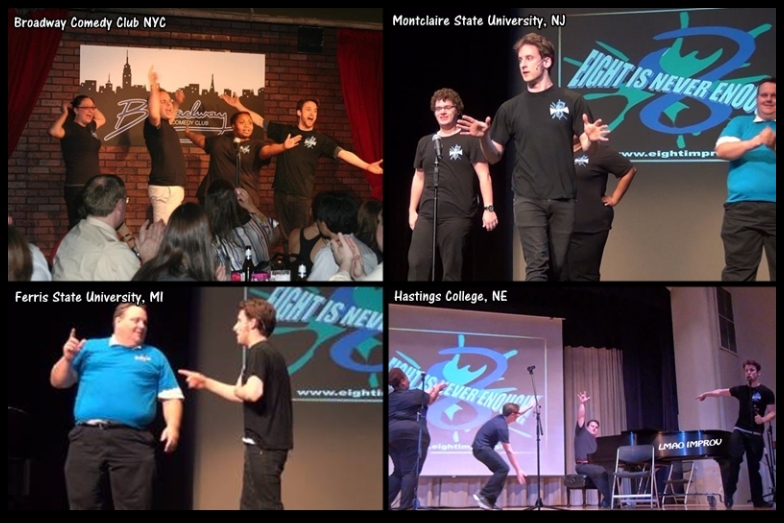 July 17 Line-Up
Actor/Comic Walt Frasier made his TV debut in sketch comedy, appearing in multiple episodes of Late Nite with David Letterman (As Tiger Woods / Lance Armstrong , Horse Jockey, Heckler and more), MTV2's STANKERVISION with Yukko the Clown, most recently on TruTV's Friends of the People, appearing in a scene with "Lil Rel" Howery (TUBER SKETCH). Frasier's TV career also includes filming a scene for "Royal Pains" (Choking Victim Saved by Dr. Hank) in San Juan, Puerto Rico, Lilyhammer (American Comic at Stevie Van Zandt's Club Flamingo) in Oslo, Norway and numerous NYC sound stages for Dr OZ and other commercials. In the past 25 years Frasier has appeared on stages, colleges and events all over America, a few in Canada, and a brief opera thing in Italy in the 90s, but we don't talk about that anymore, unless drinking red wine. In 2009 The Comedy Hall of Fame named Walt Frasier the Director of Instruction.

Samuel Van Wyk is an actor/improvisor based in New York City. As an improvisor, Samuel has performed for thousands of students and adults. He has also lead Improvisational workshops for all ages from kindergarten students to senior executives and everything in between. Samuel has lead workshops on the benefit of improv in a business setting for professionals in the education and medical field as well as corporate clients like IBM, Bing, and JP Morgan. As an actor, Samuel works in TV, Film, and Theatre. Samuel has appeared in such TV shows as Evil Talks, Diabolical, and Mysteries at the Museum. Favorite stage roles include Malcolm (The Full Monty), Hal (Proof), and Snoopy (You're a Good Man, Charlie Brown!).
Ivana Méndez was born on March 12, 1993 in San Juan, Puerto Rico. She is an actress, known for Casi Casi (2006), StartUp (Two Seasons as Marty Freeman's Daughter - 2016) and The 100% Perfect Girl (2015).
Thomas Burns Scully was born in North Wales, where he spent the first few years of his life, but was predominantly raised in the Sultanate of Oman, where his family moved at a young age. He studied at 'ABA, An IB World School' in Muscat and became a stalwart of the school stage in his teens. He began working as a voiceover actor with the Oman Ministry of Education at a young age, and has continued working as a voice actor since. Thomas was accepted to the American Academy of Dramatic Arts in New York, where he spent two years learning the craft of professional acting. His classes included Masterclasses with Tony Winner and Oscar Nominee Frank Langella. On exiting the Academy, he was awarded the Max Fischer Award for Outstanding Growth as an Actor. He is now a working New York stage and screen actor, and regular improvisor at family favorite improv comedy show 'Eight is Never Enough', and the critically-acclaimed 'On The Spot' improv team. His work has included the New York Times critically-acclaimed 'A Girl Without Wings', Time Out Critics' Pick 'BritBits 8', the BAFTA nominated short 'The Boy Under the Piano' and countless more projects for professional and commercial gain.
Steven Prestia is a rising star in both Long Island and Manhattan clubs, when ever not busy in classes at SUNY. Steve Prestia bio from 2015 -"I've wanted to be a comedian since I was eight years old. I started out taking local acting classes but what I really wanted was comedy. When I was twelve my parents discovered Kids N Comedy at the Gotham Comedy Club. That is where I took my first comedy class. Once I got a taste of being on stage, I was hooked. Since then, I have attended numerous comedy classes and workshops to include Comedy College with Governor's Comedy Club, ATNY, The Performing Option, UCB and Improv 4 Kids. My goal is to one day be a Saturday Night Live cast member." No Steven works as a performer and teaching assistant with EIGHT IS NEVER ENOUGH Improv Comedy.


GROUP SALES/PRIVATE EVENTS
Popular destination for college groups and corporate teams. Ala Carte this is a better deal than regular group sales. However if you want to add a workshop or book a private event, EMAIL HERE
Bring this Show to your College/University Stage
The show has played big stages at Montclaire State University, Bloomberg, High Point University, Williams College, Lynchburg College, and Hastings College. Charter House and smaller Greek events at Princeton, University of Maryland and Georgetown. The show has played numerous orientation and preview week shows at Pace and a hug hit at smaller lounges and snack bars and meeting rooms (<200ppl) at Vaughn, College Misericordia, University of Vermont, Mount Ida College and Stone Hill University. We have hosted groups at our NYC Theater from Yeshiva, Columbia, NYU, Hofstra, Cooper Union, John Jay, Fordham, and more…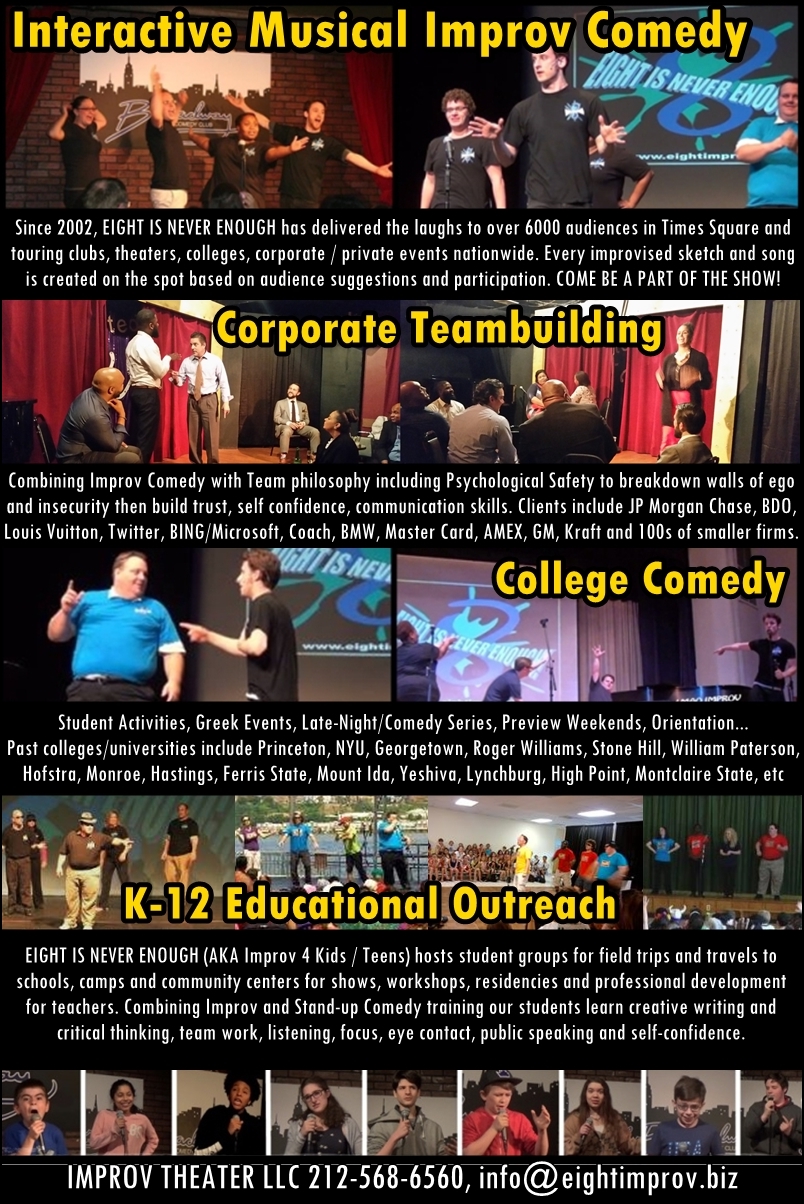 Learn how Improvisation can help you and your team. Management, Leadership, Sales, Service, Creativity and Team Building. Learn the power of YES AND... and use Improv bring Psychological Safety to your Office.
The New York team is home based at the Broadway Comedy Club, 318 West 53rd Street (Close to Times Square and Columbus Circle Subways) and offers a variety of options for shows, workshops and catering. This team currently services events in Washington DC, Baltimore, Philadelphia, Boston MA and as far east as Pittsburgh PA on a regular basis. In the past 15 years, clients include teams from JP Morgan Chase, IBM, Morgan Stanley, Johnson & Johnson, Bloomberg, Master Card, American Express, NYC Schools (DOE VENDOR), Microsoft/BING, Twitter, Louis Vuitton, Coach, Home Depot, Enrst & Young, GM, KRAFT, UBS, UNILEAVER and 100s more smaller/local firms.
Get $5 tickets (reg $10-30 at the door) to professional shows all over NYC at