FREE Tickets to the Bill Graham Chanukah Menorah Lighting Festival in Union...
Description
BILL GRAHAM MENORAH PROJECT: LIGHTING IT UP SINCE 1975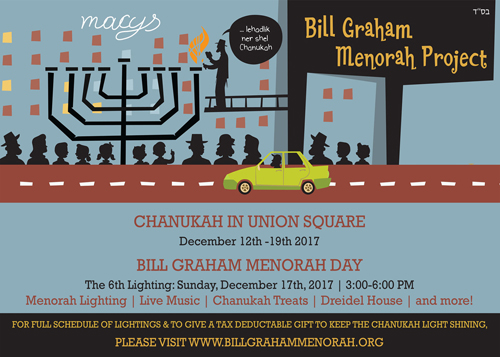 Join Us Daily from December 12 – 19 to Spread the Light of the Miraculous!
Bill Graham Menorah Day is December 17
A local miracle happened in San Francisco in 1975 when community leaders joined together to create the first big public menorah and celebration of Chanukah outside of Israel. The San Francisco "Mama Menorah" public celebration has now become a global phenomenon with large menorahs lit annually in over 500 cities worldwide. For more information, go to: Bill Graham Menorah Project
This flagship Chabad SF project has become one of the biggest Jewish events in the Bay Area, with over 5,000 people from all walks of Jewish life coming together to hear rousing music, meet Jewish celebrities, eat traditional Chanukah foods and, of course, light Chanukah menorahs. More than any other, this event has helped project an upbeat, joyful image to traditional Judaism in the media and in the eyes of Jews everywhere. A first for America, the San Francisco Bill Graham Menorah has become the most imitated Chabad program, with menorahs lit every year in Berlin, Paris, London, Singapore, Ho Chi Min City, Moscow, and in both large and small cities across the United States.
Union Square Menorah Lighting Schedule
Tuesday, December 12 - The 1st Candle Lighting
5:00 PM Lighting Ceremony
Participating in the Lighting: George Zimmer, Mark Leno, State Senator Scott Wiener, Peter Dwares & Lori Starr, Executive Director of The Contemporary Jewish Museum
Wednesday, December 13 - The 2nd Candle Lighting
5:00 PM Lighting Ceremony
Participating in the Lighting: Norman Krug & Jason Perkins
Thursday, December 14 - The 3rd Candle Lighting
5:00 PM Lighting Ceremony

Friday, December 15 - The 4th Candle Lighting
3:00 PM Lighting Ceremony
6:00 PM Shabbos
Saturday, December 16 - The 5th Candle Lighting Ceremony
7:00 PM Lighting Ceremony
Sunday, December 17 - The 6th Candle Lighting Ceremony
Bill Graham Menorah Day 3:00 pm - 6:00 pm
Lighting Ceremony at 5:00 PM
With Long Time Bill Graham Colleagues/BGP Family (BGP: Danny Scher, Bob Barsotti, Rita Gentry, Colleen Kennedy and more) & Rick "Chaim" Felson
Musical performances by Jerry's Kosher Deli Kids Activities
Monday, December 18 - The 7th Candle Lighting Ceremony
5:00 PM Lighting Ceremony

Tuesday, December 19 - The 8th Candle Lighting Ceremony
5:00 PM Lighting Ceremony
The Bill Graham Supporting Foundation of the Jewish Community Federation and Endowment Fund.
For more info visit our website at www.ChabadSF.org or call (415) 668-6178