Description
SOL Y LUNA invites you to SF's Exclusive
AUDIO NIGHTCLUB

---
For the First Time in the US,
Live Performance by tyDi's Alter Ego...

WISH I WAS
(Australia)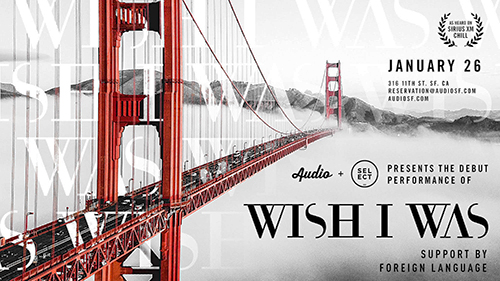 tyDi as WISH I WAS
Ever the artist, tyDi transformed his times of saying "I wish I was doing this" to a new artist project under the name Wish I Was.
As tyDi, he had hit a constraint. He wrote a 20 song album, collaborating with different singers and tracking live instruments for a world tour. He couldn't repeat it and had to be in love with what he was doing. As Wish I Was, tyDi channeled his darker and more emotional lyrics into some new songs that he put on Soundcloud. The more relaxed vibes captured everyone's attention, and the song "Cutting Ties" became the most played track for Sirius XM Chill. People embraced this different sound, and tyDi was happy to be able to express his dual personality.
So what does the artist with two personas do next? An orchestral electronic album called Collide. tyDi put his degree in classical music to work and did the sound design for 12 tracks ranging from house and trance to trap and drum and bass, with some progressive in the mix. He then teamed up with Grammy award-winning composer Christopher Tin to arrange the music for the London Symphony Orchestra. This isn't some acoustic or candlelight version of EDM tracks; Collide has tyDi stepping outside of his box and taking dance music where it has never been, with a focus on counterpoint writing and showing the intellectual beauty of composition.
tyDi announced the Collide album exclusively on Nexus radio, saying the album is a cohesive piece of work with six-minute songs meant to be listened to as an album. A true artist album, now that's the work of a real artist who is truly pushing boundaries.
AUDIO NIGHTCLUB
The world of Audio revolves around sound, and it is a danceclub that was created by sound fanatics. The layout of the nightclub, placement of the speakers, design of the 7 layered dance floor, and the Funktion One sound system were carefully crafted to create a revolutionary auditory experience. Combining retro décor with cutting edge music, Audio never sports a dress code and is an intimate venue to hear world class DJ's without the pretension.
AUDIO NIGHTCLUB
316 11th Street
San Francisco

For Bottle Service Reservations, email SOLYLUNASF@yahoo.com

Feel free to invite your friends and family to this special event!