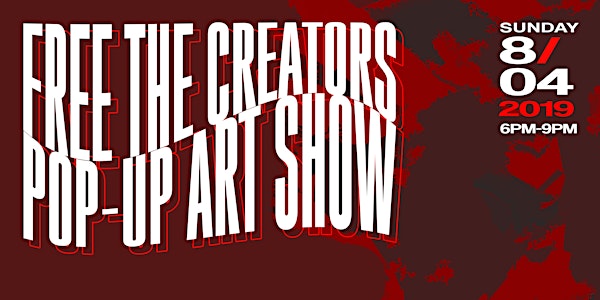 Free The Creators by Jupiter June
When and where
Location
Broccoli City Bar 1817 7th Street Northwest Washington, DC 20001
Description
Peace & Blessings Beautiful People,
This is your exclusive invite to my first (pop-up) art show and celebration of me transitioning to Los Angeles!
Free The Creators is a collection of designs created from remixing paintings and experimenting with different printing techniques to execute totally unique.
In addition to the good vibes and beautiful people you'll have the opportunity to take home a limited released Free The Creator Tee, digital print or original painting by ya boy! PLUS enjoy live performances from two of my personal favorite creatives in DC and Baltimore!
Featured Vendors:
House 444 https://www.instagram.com/hhouse444/?hl=en
Nwandeezy (NWAD) https://www.instagram.com/nwadco/?hl=en
Artist Talk @ 6:30pm
Peformances @ 7pm
Zoney Sound Beat Hause Preview 7:20pm
Ethos: The featured design of the show are The Free The Creators Tees. Free The Creators is a message to uplift the creatives` that have been restricted, erased, negated, or ignored. Utilizing watercolor I chose to honor black women, a message to honor human's first creator Black women! Liberate Yourself is a message to the creatives that freedom is taken not given! We must fight for representation and authenticity in this industry, it's our duty to fight!
Sincerely,
Jupiter June
FREEEEEEEEEEEEEEEEEEEEEEEEEEE lol