[FREE] The ABCs of APIs with Node.js - Portland
When and where
Location
Marriott 1401 SW Naito Parkway Portland, OR 97201
Description
Are you a web designer/developer interested in API development, or an enterprise developer looking to expand your skill set around APIs using Node.js? Do you have data or services that you need to expose via APIs?
Join your fellow developers and Apigee for a free, one-day workshop and learn to build RESTful APIs using Node.js and deploy them to the cloud!
Regardless of your background - this hands-on workshop will walk you, step-by-step, through the process of building APIs using Node.js.
During the course of the workshop, we'll cover topics such as:
Best Practices in RESTful API design
Crash course in Node.js
Creating API specifications and docs with Swagger
Using NodeJS to build an API
Easily exposing data from databases (SQL and NoSQL)
Creating API policies such as rate limiting, quota, OAuth, and more
Deploying APIs to the cloud (Apigee Edge, Amazon Web Services and others)
The workshop is completely free – and all of the software & services we'll be using are open-source!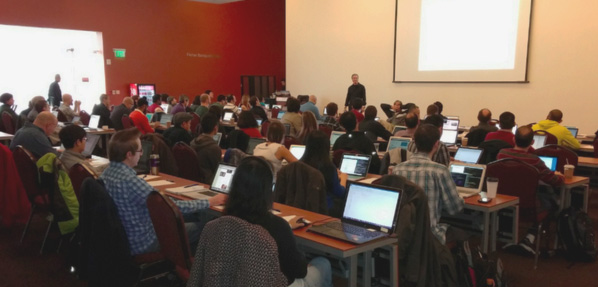 Pre-requisites
A laptop:

minimum OS requirements are Mac OS X 10.7 or Windows 7. If you are a Linux user and have some experience with Node.js, you are welcome to attend, however we can't help you troubleshoot any issues.

Basic understanding of Javascript and/or some programming experience:

this workshop is hands-on, with attendees writing Javascript the entire time. We will cover the basics of Node.js, but will assume that you understand the basics of Javascript.

Preinstall Software:

prior to arrival at the workshop, please ensure that you have installed Node.js, npm (should be installed by Node.js), Java and git. From the Command prompt (Terminal on Mac), type "node --version", "npm --version", "java -version" and "git version". If you do not see a version number, you will need to install it.

Code Editor:

you are welcome to use the code editor of your choice - just make sure that it handles Javascript syntax highlighting.
Schedule
8:30am - 9:30am: Doors open — registration and coffee
Intro to APIs
Best Practices in RESTful API design
Crash course in Node.js
Intro to the Apigee 127 project
Lunch break (provided by Apigee)
Building API Specs with Swagger
Creating Controllers and API logic
API Management
Using an app to consume APIs
Deploying APIs to Apigee Edge and Amazon Web Services
4:00pm: Q&A and drinkup! (Beers/wine provided by Apigee at a local watering hole.)

Here's what previous attendees have to say about previous workshops from Apigee…

About the Instructor
Greg is a Developer Evangelist at Apigee. Greg has been working in the web industry literally since the web was born – he was hand-coding HTML before the table tag was even "invented". His career has taken him around the world, from the early days of desktop publishing, to a start-up in Hamburg, Germany where he helped build one of the first HTML authoring tools, the glory days of the web at Macromedia as the Technical Product Manager for Dreamweaver, and finally his role as Principal Evangelist at Adobe prior to joining Apigee. Greg has spoken about web technologies at over 500 industry conferences around the world, as well as being a published author.