Description
Register now to join me, Karen Brody, creator of Birth, The BOLD Movement, and FEAR To FREEDOM Birth, for a special one hour Boot Camp For Birth Visionaries tele-class...
Watch this short video first, and take note of the details for the Boot Camp for Birth Visionaries below it.
As a result of attending the "Boot Camp For Birth Visionaries" you will learn:
How to Be a Birth Worker And a Change Agent Without Feeling Like You're Preaching
The 4-Step Community Organizing Method And How To Use It To Transform Pregnant Mothers So They Own Their Birth Experience
One Thing You Absolutely Must Put On Your To-Do List If You Want To Change the Culture of Birth
The ONE Quick Empowerment Tool You Can Begin Using with Your Pregnant Moms Today!
You will also receive a recording of the call and an easy-to-reference printable PDF that summarizes the 4-step birth empowerment method taught at the Boot Camp For Birth Visionaries.
Boot Camp For Birth Visionaries is for you if you are any of the following:
Doulas & Doulas in training
Midwives and Student Midwives
Birth activists and advocates
Prenatal Yoga Instructors
Therapists & Social Workers
Pregnancy Coaches & Life Coaches
Dear Birth Worker,
Recently at the kick-off call for my FEAR to FREEDOM Birth Facilitator Training Program one of the birth workers told the group that she is a midwife, and the reason she signed up for the training was because she was tired of doing the same prenatal visits and teaching the same prenatal classes with pregnant mothers.
She said, "I'm here because I want to be a birth worker who is also a change agent in childbirth,"
My ears perked up.
This occurred during a time when I was reading certification materials for several FEAR to FREEDOM trainees who kept saying things like, "The FEAR to FREEDOM Birth tools are allowing me to wear my birth activist hat without really having to flaunt it."
If you have always considered yourself an 'activist,' the F2F tools will help you bring that activist passion to your work as a doula and childbirth educator.
Every birth worker should experience that, which is why I'm hosting a free "Birth Visionaries Boot Camp" this Monday, May 7th.
You may be thinking, I am already a birth visionary. I get it. So was I. From the time I gave birth to my sons with midwives I felt passionate about people embracing a "birth is normal" attitude. But what I wasn't using – and what I see so many birth workers missing – are the empowerment tools to be an active change agent in childbirth.
I know every birth worker's birth vision-ista is there. I'm doing this boot camp because sometimes we need a little kick in the butt to launch. The empowerment tools you will learn on this call are designed to kick your visionairy butt big time.
I want every birth worker to immediately have tangible info to take into the field. Plus, if you register for the call, you will get placed on a special email list that will receive monthly boot camp tips for birth visionaries.
My Background As A Birth Visionary
I've always been about creating change, ever since my twenties when I was a Peace Corps volunteer in Central America.
My background as a community organizer was the main impetus for creating FEAR to FREEDOM.
To me, birth workers are ideal change agents in childbirth.
A few years ago after writing the play BIRTH and founding the BOLD movement I finally stepped into my role as a birth change agent and visionary.
And boy, did it feel good to be a birth vision-ista!
That's what I want to share with you now. My mission is to help you bring together your birth worker self and your inner change agent into a birth visionary whose on a mission to help pregnant mothers own their birth experiences and ultimately change the culture of birth.
How About You?
Are you a birth vision-ista too?

Do you want to combine your every day birth worker hat with your birth visionary mini-skirt?

Do you grow tired of pregnant mothers not owning their birth experience?

Do you want to change the culture of birth?

Are you seeking tools to help move pregnant mothers to take action in their births?
If you're ready to learn, good. Because I am ready to equip you with some tools that will help transform the great work you're already doing.
Join me?
Sign up for my free teleconference on Monday, May 7th at 12:00 EDT.
I'm going to talk about how you can "be the change" in birth that you want to see and plants the seeds for pregnant mothers to stand in their power, and turn on their internal power switch... and OWN their birth experience.
You Can Help Mothers Humanity Write A New Story About Childbirth.
Imagine...
Imagine every pregnant mother embracing her inner hero.
Imagine women surrendering to the mystery of birth.
We need YOU out there in the field – shining your birth visionary torch - helping pregnant mothers gain the knowledge that they hold the key to fear OR freedom during their pregnancy and birth.
When they understand this, THAT is when the culture of birth changes.
That's when we can begin a new story about childbirth.
That's when women's empowerment during childbirth SOARS.
Are you "in?"
We need a tribe.
If you're reading this, I have the feeling you belong. Allow me to help guide you, and equip you to be participating in this movement.
If you are ready to get your inner birth visionary activated, then register for the call this Monday, May 7 at Noon EST.
Register now and I look forward to welcoming you on the call.
With love,
Karen
P.S. It's easy to blame the doctors and insurance companies for the crisis we see in birth today. But the heart of the problem lies within the fact that women don't know how to put themselves, (their hearts!) at the center of their own births!
No one can do it for them - not us, not doulas, or even midwives. They must look for the answers inside themselves. Birth vision-istas can guide and support them in this journey!
P.S.S If you cannot make it to the live class but want to listen later, register anyway, you will be sent the recording via email.
P.S.S.S. Live outside the USA? You can Skype into the call for free!

* * *
Karen Brody's life's work is to create multi-sensory cutting edge tools (a play, the BOLD movement, a birth worker training program) that help the culture of birth shift to a new story - one where pregnant mothers birth with their internal power switches on and birth workers are rockstar change agents in childbirth, planting the seeds of empowerment everywhere they go. Through her FEAR to FREEDOM Birth Facilitator Training Program, Karen provides empowerment tools to marry birthworkers with their inner change agent so they can be out in the world changing the culture of birth. For more info on me visit: www.changethecultureofbirth.com and www.boldaction.org.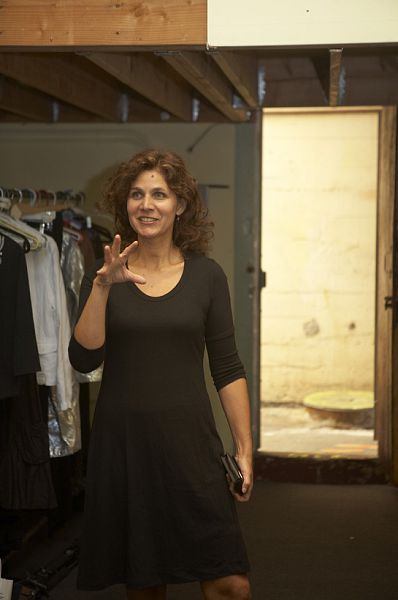 Karen backstage at her play BIRTH in San Francisco

Organizer of FREE TELE-CLASS: Boot Camp For Birth Visionaries