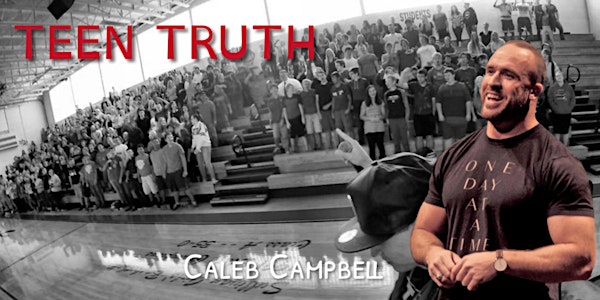 FREE TEEN TRUTH with Caleb Campbell (Ages 13-21)
Come with an open mind to lay all your mental health questions on the line with the #1 TEEN Speaker (Ages 13-21)
When and where
Location
Freedom Hall Civic Center 1320 Pactolas Road Johnson City, TN 37604
About this event
This FREE event is opened to the first 200 TEENS (ages 13-21) that register. It will be held in the auxiliary gym!
Who is Caleb Campbell? Caleb Campbell is a West Point graduate, former Army Officer and ex-NFL Linebacker. After a college football career at West Point full of accolades and awards, Caleb made history when he was selected by the Detroit Lions in the 2008 NFL Draft. He is the American dream that most students strive to become, but it wasn't until he was cut for the last time by the Kansas City Chiefs that he was forced to face a hard truth: He had a lived a life of strength on the outside, but internally he was falling apart.
Despite living out his childhood dream and having a life that many would envy, a day never went by where Caleb felt he'd found his place in this world. Having lived through rejection, depression, self-medication, and thoughts of suicide, Caleb understands the pressures that your students are facing. He has endured an internal struggle to hide his truth, and has overcome it by finding his voice. Caleb is a leading mental health advocate for teens and student athletes around the world, and one of TEEN TRUTH's best speakers.