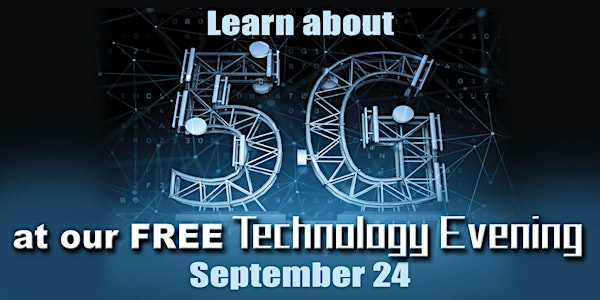 FREE Technology Evening on 5G at Zen
When and where
Location
Zen - An elegant space for hire 924 South Main Street Greenville, SC 29601
Description
Attention: Online ticket registration will end on 9/24 at 12 Noon. On 9/24 at 6:00 pm, If space is available, individuals without tickets may come to the door to register and attend the event.
Learn about 5G at our FREE Technology Evening on September 24 (Limited Seating, get your free tickets while they last)!

5G, the fifth-generation cellular network technology, is on the verge of being implemented locally and world-wide. Much of the public assumes this is just an upgrade in cellular service. This is not the case as 5G uses an ultra-high frequency signal called the millimeter-wave frequency band.

A growing list of physicians, healthcare advocates, scientists and consumers are calling for a moratorium on 5G. Dozens of independent studies indicate 5G is a risk to biological life. To date, there have been no industry health studies done..

The evening will include vendors, a film/video on the impact of 5G, and discussion that can provide insight and information on this important and life-changing subject.
*Sun Belly Cafe will have light meals and snacks available for sale.
**NOTE: People attending may be sensitive to electromagnetic frequencies. We ask that you leave your cell phone and other electronic devices at home. If you must have an electronic device with you, you will be required to turn it off when entering.

Join us, Tuesday, September 24, at 5:30 pm
Zen
924 S. Main St.
Greenville
Doors open at 5:30