Free Talk: How to have Unlimited Energy and Overcome Fatigue
Sales Have Ended
Registrations are closed
Sorry you missed this event. Please go to my UAE Facebook page here for updates on other events. https://www.facebook.com/khabir.emerates Go to register for upcoming events: https://www.eventbrite.com/o/khabir-southwick-naturopath-mh-nt-cas-12926520648
Sales Have Ended
Registrations are closed
Sorry you missed this event. Please go to my UAE Facebook page here for updates on other events. https://www.facebook.com/khabir.emerates Go to register for upcoming events: https://www.eventbrite.com/o/khabir-southwick-naturopath-mh-nt-cas-12926520648
Description
How to Naturally have Unlimited Energy and overcome fatigue.
(How to naturally have unlimited Energy without coffee )

Learn how to have more energy with food, herbal medicine and breathing practices
You will learn:
- What causes fatigue?
- What diet and foods are best to avoid fatigue.
- what herbal supplements and superfoods will boost your energy.
- Understanding Prana: Your source of energy and life force.
- Signs and symptoms of Prana imbalances such as anxiety, fatigue, depression, dizziness, ADHD, and more.

Prana is the life force that enters the body at birth, travels through all the parts of the body until it leaves at the moment of death. When your prana is depleted then your have less energy mentally, physically and emotionally, but if you have ample prana you have endless energy!

Class by Vaidya Khabir and Yogi Manish

Yogi Manish will lead the class in Pranayama exercises.
------------------------------------
#2602, The Oberoi Centre, The Oberoi Hotel, Business Bay MAP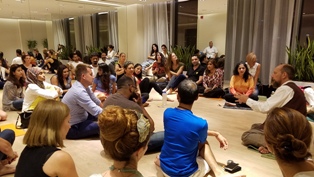 FACEBOOK PAGE FOR EVENT UPDATES: https://www.facebook.com/events/697779507062286/
-------------------------------------------------------------------
APPOINTMENTS WITH KHABIR IN THE UAE
Between March 15th and the 30th Khabir will be providing private appointments most days. For details about a private appointment and to schedule an appointment please go here: http://khabir.simplybook.me/index/about