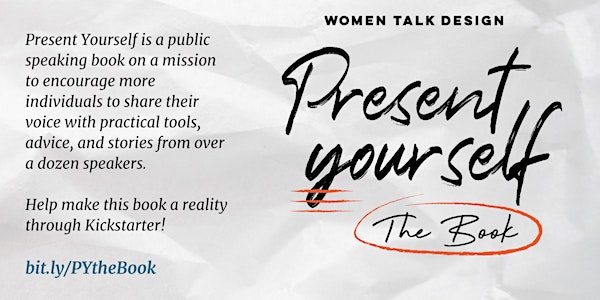 *Free Talk* 5 Tips for Presenting with Confidence
To celebrate our Kickstarter campaign, we're hosting a free public speaking talk!
About this event
In celebration of the Kickstarter campaign for our public speaking book, Present Yourself, Women Talk Design is hosting a free talk!
Whether presenting your work in a team meeting or speaking at a conference or event, public speaking is a critical skill for creatives. But public speaking can be challenging! How should you prepare? What if you freeze? How can you keep your audience engaged?
Join Women Talk Design CEO and Present Yourself author, Danielle Barnes, for a short, interactive public speaking presentation. Inspired by the Present Yourself book, she'll share 5 easy-to-remember tips for presenting with confidence.
**Learn more about Present Yourself: The Book, contribute to the campaign, and help us spread the word. **
Event details:
Upon registering, you'll be added to a calendar event with the link to join the Zoom. This presentaiton will be recorded and automated captioning will be available.
The event is open to everyone. Please take a moment to read through Women Talk Design's Code of Conduct before RSVPing. You can see a complete list of Women Talk Design's upcoming events here.