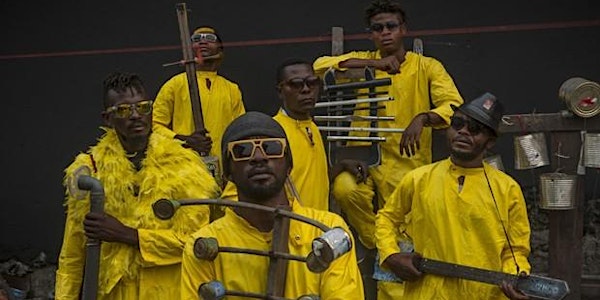 Free! - SYSTEM K , Fred Douglass Blvd. & 120th St. | ImageNation Outdoors
SYSTEM K reveals the vibrant, raw, politically astute world of performance art in Kinshasa, the likes of which exist nowhere else on earth.
When and where
Location
Frederick Douglass Blvd. & 120th Street 2223 Frederick Douglass Blvd New York, NY 10026
About this event

ADMISSION IS FIRST COME! YOUR TICKET DOES NOT GUARANTEE ADMISSION. WE WILL EMAIL ONCE WE REACH CAPACITY. PLEASE CHECK YOUR EMAIL, IF YOU ARE RUNNING LATE.
System K
directed by Renaud Barret, 2019, 94 min, France/Democratic Republic of the Congo
Courtesy of Artification
Kinshasa, the capital of the Democratic Republic of the Congo, is a vast, chaotic mega-city of 12 million. Water is privatized and the electric grid is capricious. Here, street artists' performances are wildly creative, angry, irreverent, often shocking. With names like Kong Astronaute, Strombo, and Kill Bill, they masterfully repurpose urban detritus (computer parts, TV sets, bullet shells, machetes) and work with fire and paint, wax and blood — to critique government corruption, Western exploitation, and entrenched poverty.
SYSTEM K reveals a vibrant, raw, politically astute world of performance art the likes of which exist nowhere else on earth. Preceded by the short film "Betye Saar: Taking Care of Business," preceded by the short films "Betye Saar: Taking Care of Business" and "Dust, Mask, Soul".
Admission is on a first come basis, once we reach capacity, no more guests will be admitted. We will however, maintain a wait list. Those who signed up will received preferred admission and will have the opportunity to be admitted first at the next screening. Once we reach capacity, an email will be sent to all registrants. If you are running late, check your email.
COVID-19 PRECAUTIONS
1. All guests are encouraged to wear a mask when walking around.
2. Families, groups, and individuals are encouraged to maintain a distance of 6ft away from other guests.
3. Any guest who endangers, will be asked to leave the premises.
4. These precautions may change as dictated by health and government officials.
PRESENTERS
IMAGENATION
Each year, for the past 18 years, ImageNation has presented the free ImageNation Outdoors Festival to foster fellowship among New York City residents, while celebrating communities of color through cinema and music.
ImageNation Cinema Foundation is a Harlem-based media arts group, founded with the goal of establishing a chain of art-house cinemas, dedicated to progressive media by and about people of color. Through a variety of exhibitions and programs, ImageNation edifies its audience. ImageNation fosters media equity, media literacy, solidarity, cross-cultural exchange and highlight the humanity of Pan-African people worldwide. Click here to learn more.
FREDERICK DOUGLASS BLVD ALLIANCE
The Frederick Douglass Boulevard Alliance (FDBA), is a not-for-profit organization dedicated to building a strong community, improving quality of life, and maintaining a clean and safe boulevard, for residents, visitors, small business owners and workers. We seek to establish Frederick Douglass Boulevard, Harlem's Gateway and Restaurant Row, as a model residential and commercial corridor. We also seek to uplift those who for decades have been the bedrock of this historic community. Click here to learn more.