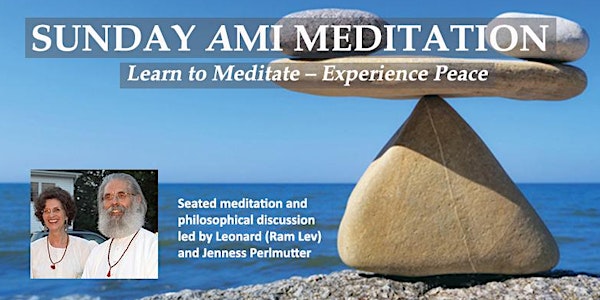 Free Sunday Guided AMI Meditation & Satsang (discussion) on Zoom - Join Us!
Sunday morning program includes a seated guided AMI MEDITATION & satsang (a philosophical discussion led by Leonard and Jenness Perlmutter).
About this event
Feeling isolated or stressed? Curious about the practice of meditation? Seeking a deeper and more meaningful practice? Join our spiritual community online for a FREE guided meditation and satsang (discussion). Beginners welcome! Held every Sunday 9:30-11:00am EST. A free recording will be sent via email the following Monday.
Our seated meditation practice is held in a relaxed and comfortable atmosphere. Each Sunday morning program includes both a seated AMI MEDITATION and satsang — a philosophical discussion led by Leonard (Ram Lev) and Jenness Perlmutter. The seated meditation practiced at AMI is known as mantra meditation. You simply sit in a chair with your head, neck and trunk straight. Close your eyes and concentrate your silent attention on any name of the Divine Reality that you are most familiar and comfortable with. The seated silent meditation lasts about 20 minutes and is followed by a reading and group discussion.