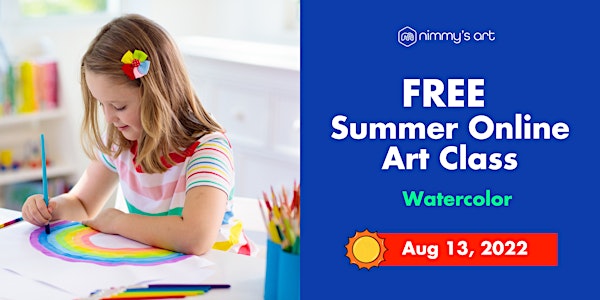 FREE Summer Online Art Class - Watercolor - August 13, 2022
Join! FREE Summer Online Art Class - Watercolor - August 13, 2022
About this event
Summer fun is here! Give your little budding artist at home a chance to set their minds free this season. Let them explore and enjoy art with us at our online art class for kids.
Join us in this fun-filled Free online art class to enjoy art and spend time together. Acquire a new art skill for free in our FREE Summer Online Art Class.
Learn from an award-winning and professional artist Nimmy Melvin.
FREE Summer Art Camp
1.5 - hour art lesson where you will draw and paint
No experience required - Beginners are welcome
Open for 5-7 years and 8-12 years
Watercolor Painting
Step by Step instructions
What you will need: See the image below for reference
Pencil
Eraser
A cup of water
Palette
What you will learn: In this online live class, you will receive step-by-step instructions to identify the shapes in the subject, draw the basic structure, blend colors, and add the details of the subject to complete the drawing using Watercolor Paint.
Class format: The live online class is a group event on zoom.
About Nimmy's Art
Nimmy's Art mission is to share our experience and knowledge in visual arts with budding talents. Our Art Instructor and Founder, Nimmy Melvin, is an award-winning artist & an International Art Tutor. We offer online live art classes for kids of different age groups.
We follow a Fine art-focused study approach and have designed a syllabus focusing on different age groups, enhancing their creative and artistic skills.
We are offering art classes in wide-ranging mediums: pencil sketching, watercolor, acrylic, Prisma colors, charcoal drawing, gouache painting, and oil pastels.
Enroll Now - Annual Subscription and grab $200 OFF - https://www.nimmysart.com/onlineartclass
Learn from our Video Lessons - https://academy.nimmysart.com/
We love seeing what you make, so please do share your artwork!
For our Student's Parents, you can post your artworks in our engaging online community - https://www.facebook.com/groups/nimmysart
@nimmysart #nimmysart #nimmysmothersdaycontest2022
Follow us here
Art Blogs | Free Tutorial Videos | Instagram | Facebook
New to art? JUST ST[art]®