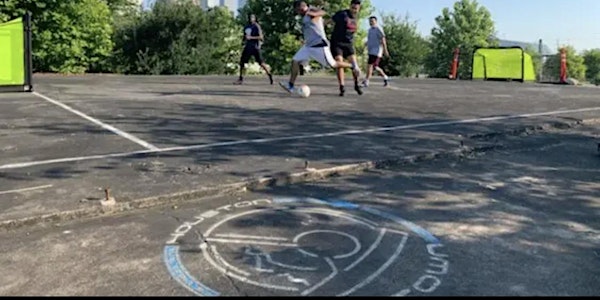 Free Street Soccer Houston
Location
EaDog Park
2300 Polk Street
Houston, TX 77003
All levels of play welcome for this music-on street weekly soccer/futsal game!
About this event
This unofficial street soccer court was created as part of the Houston Town Futsal Ball-A-Block program. These weekend pickups at The Block are free to play. Any type of donation goes back to investing in the space and making improvements where needed.
Ball-A-Block
Ball-A-Block is our version of the Adopt-A-Block program, but in the process of picking up litter, we are also creating open spaces for public use where Houstonians can play street soccer. Essentially, this is our DIY approach to making use of dilapidated asphalt surfaces and/or concrete structures and flipping them into temporary, pop-up futsal courts for pubic use.
Location
The Block street soccer court is located in at EaDog Park (next to 8th Wonder Brewery) at 2300 Polk St.
Post-Game
We invite everyone to a local restaurant/bar afterward to grab a drink and talk the beautiful game.
How We Play
5v5 (no goalies)
1st goal wins (4:00 minute games if no goal scored)
King of the Court (winner stays)
You shank, you shag (you kick the ball off the court then you get it)
What to Bring
Flats (court surface is concrete)
Sunscreen
Water
Parking
There is parking just in front of the court, but the lot has a lot of potholes so park at your own risk. We recommend parking on Bell St behind the court where you can then walk on the trail up to the court.
Cost
Free to play
Recommended donation: $5