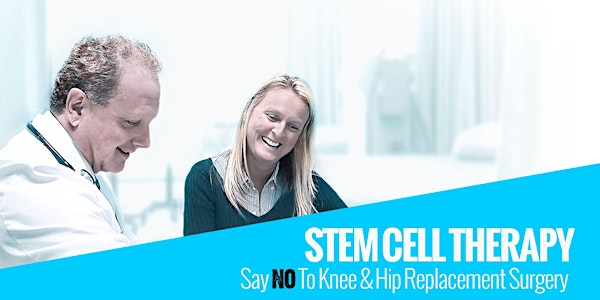 Free Stem Cell Seminar: Lunch and Learn With Us. Therapies for Joint and Back Pain
When and where
Location
La Quinta Inn & Suites Bonita Springs 28600 Trails Edge Boulevard Bonita Springs, FL 34134
Description
Join us for a free groundbreaking Educational Seminar and Lunch in Bonita Springs, April 24, 11.30 - 1 p.m. highlighting new cutting edge advances in how we treat damaged knee/hip joints, osteoarthritis and sports Injuries using your body's own Stem Cells.
This is the wonder of Stem Cell Therapy which many scientists call a "major paradigm shift into how we think about treating disease and the regeneration of damaged ligaments, tissue and joints".
You can purchase tickets via purchase button on this page OR simply call our office to telephonically book yourself into the seminar: 239.319.4949
Your host, Dr. Steve Coleman, A Doctor of Osteopathic Medicine will shed light on Cellular Injection Technologies which hold the promise and HOPE of offering minimally invasive alternatives to knee and hip replacement surgeries which are surging towards 1 million operations per year in the United States.
The seminar will benefit those suffering from:
Tears: Partial MCL / ACL / Rotator Cuff / Meniscus Tears
Osteoarthritis: Degenerative Joint Disease - a terrible condition which if left unchecked leads to bone-on-bone severity requiring surgery
Joint Pain: Chronic pain in the knees, hips, shoulders and other hinge joints
Dr Coleman will expose some common misconceptions about bone-on-bone osteoarthritis and why surgery should always remain the last resort.
"We are literally on the cusp of a revolution in modern healthcare with Regenerative Medicine promising to treat more than just bone disease and sports injuries. It has the potential to heal, rejuvenate, and several years from now, completely replace damaged tissue and organs," said Dr. Coleman.
In the seminar you will learn:
How your own bone marrow and fat cells can spark rapid healing in the knee joint

Actual patients who experienced reduced pain by as much as 70%

Patients who report remarkable gains in joint mobility

Surprising new evidence on the role obesity plays in Osteoarthritis

Why Stem Cells are revolutionizing just about every area of Medicine

Why Stem Cells are the ultimate healing agents in the body and why they will become the most important medical tool for doctors over the next decade.
The seminar will force you to re-examine the way you view orthopedic treatment plans in America and how you may be closer than you think to recovering an active lifestyle FREE of joint pain using the advances in Regenerative Medicine.
Lunch & refreshments will be available during the event which will feature a main presentation followed by a short Q & A. We have space for 25 couples / 50 persons, so please RSVP - we expect a full house!
Patient Succes Story
"I was scheduled for a bilateral partial knee replacement when I came across Dr. Coleman's Stem Cell Therapy Program," said Jorge Gutman, an active, athletic 54-year old suffering from debilitating arthritis pain in both knees. Tired of being held back from his very active business and lifestyle, he was searching for a better solution to his chronic knee pain" ~ Jorge Gutman, 54, Construction Industry