Description
Spirit Filled Living Monthly Series... (Topic & Time Change for December)
NEXT WORKSHOP: SATURDAY, DECEMBER 8, 2018 @ 10:30-11:30 A.M.
TOPIC: SOAKING WITH JESUS GUIDED MEDITATION
If you've ever done soaking meditation you know it's one of the best ways to dwell in God presence and experience total relaxation. (Guided Progressive Christian Meditation). Soaking meditation is when you comfortably lie on your mat, and maybe a blanket or two, while listening to lengthy guided Christian meditation. It can include soft music and essential oils that ushers you into complete relaxation while nurturing your heart and spirit. This soaking session will be filled with scripture, a progressive relaxation, and inspirational messages inviting God and the Holy Spirit in the sacred time of rest, healing, and restoration. Space is limited so please sign up eariler (please change your RSVP if you decide NOT to attend; first come first serve.)
WHAT TO BRING: Dress comfortably, bring yoga mat, a comfy blanket and 2 pillows.
Workshop is FREE. Donations are welcomed.
To Learn More visit: http://www.secretplacemeditation.com
LOCATION: HUGLIFE WELLNESS STUDIO, 2648 33RD STREET, SACRAMENTO. This is in Oak Park off of 33rdst/Broadway. A few blocks down from Old Soul 40 Acres Cafe.
From Hwy 99 or I-5 going north,
Exit Broadway and turn right. Make a right on 33rd Street.
From I-80W
Take I-80BUS W to 34th St. Take the US-50 E exit from CA-51
Continue on
34th St
. Drive to
33rd St.
****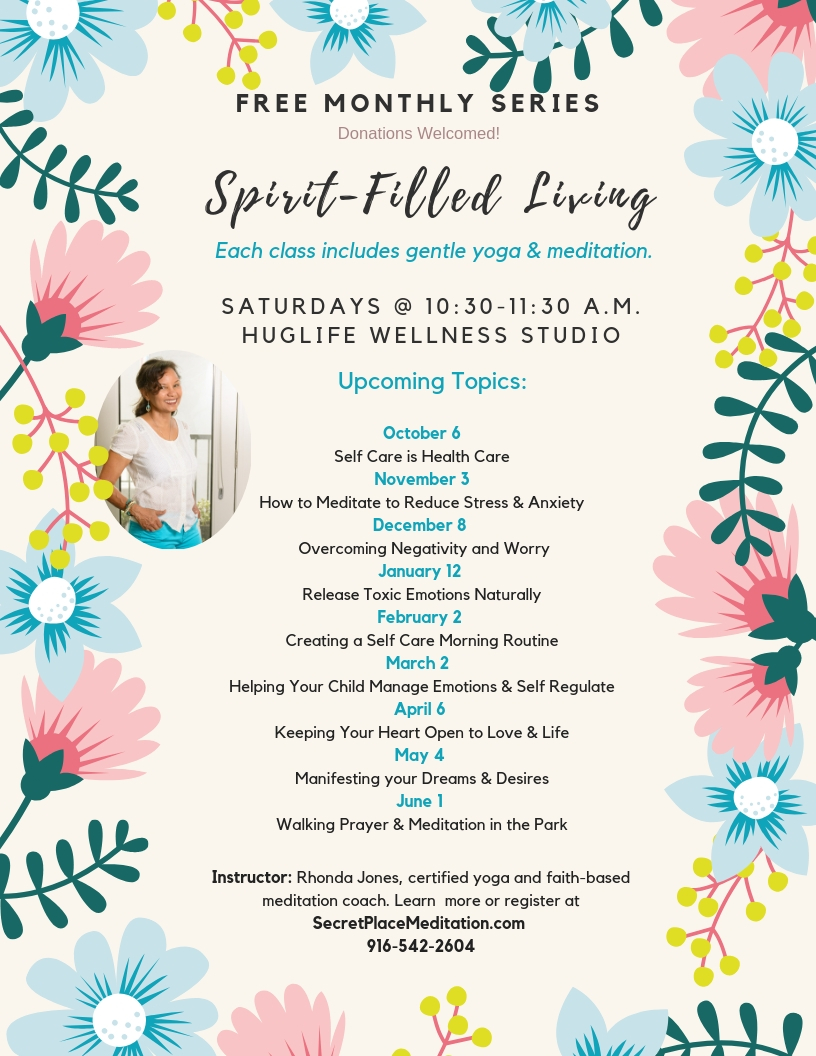 Are you spending a lot of time on your external self or appearance, your career, attaining more things, but very little time on your mental, emotional, and spiritual health. Many of us would never skips days to shower or bathe, however, may be holding onto years of mental and emotional dirt. In this workshop, we will explore ways to remove and release these internal toxics and live with more peace, joy, and purpose in our lives. Please RSVP. Workshop is free. Donations are welcomed.
Jesus stated that God is a spirit and that they who worship Him must worship Him in Spirit and Truth. During this free monthly series, together we will explore ways that we can grow in deeper union and alignment with God by seeking Him from within.
In addition, the greatest obstacles to union with God are an unrenewed mind and a tainted heart. Jesus said that we are to purify our hearts and minds from everything that can contaminate it. Many of us are carrying around years, even decades of mental and emotional debri that needs to be released!
As we cleanse ourselves from within, we create a greater space to know and experience God as He begins to occupy these spaces with his peace, joy, contentment and love. With God's Spirit within us, we have our own internal guidance system, and don't need to rely upon outside sources for our lead us.
If you want to replace religion with relationship and reconnect with yourself and God within you, I invite you to come.
Click here to learn more and to RSVP: http://www.secretplacemeditation.com/spirit-filled-living-workshop-series/