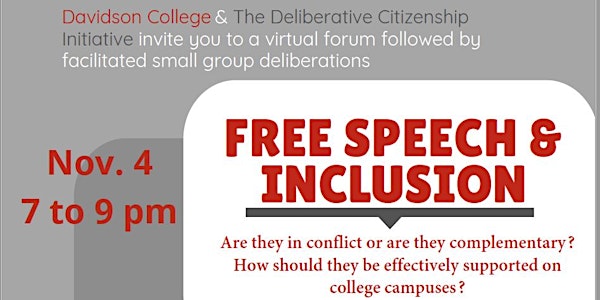 Free Speech & Inclusion Forum
Free Speech and Inclusion: Are They in Conflict or Are They Complementary? How Should They Be Effectively Supported on College Campuses?
About this event
Davidson College and the Deliberative Citizenship Initiative invite you to join us for an online Deliberative Forum to discuss Free Speech and Inclusion: Are They in Conflict or Are They Complementary? How Should They Be Effectively Supported on College Campuses?
November 4, 2021
7 to 9 pm
Zoom
Campus communities today seek both free speech and inclusion for their members. Some believe that promoting freedom of expression and practicing inclusivity are reconcilable goals; others assert they are inherently in conflict. On one side of this debate are those who believe campus leaders have an obligation to protect students, particularly individuals from historically and currently marginalized groups, from potentially harmful speech. On the other side are those who assert that limiting speech stifles academic rigor and insulates students from engaging with varying perspectives, which undermines the mission of educational institutions.
Are free speech and inclusion indeed in tension with one another? What benefits and harms do they each potentially entail? Can they both be promoted and supported simultaneously? If so, how do we create campus communities that allow for academic rigor while also being sensitive to efforts to promote diversity, equity, and inclusion? If not, which of these values should we prioritize? Important and timely though they are, these questions are hard to answer—or even to approach productively—if we disagree about what inclusion and free speech amount to in the first place. Thus, we must examine both inclusion and free speech themselves before taking up the purported tension between them.
This DCI Deliberative Forum will enable participants to do so, first by hearing from a panel of three leading experts on this issue, and then by actively deliberating with one another in facilitated small group discussions on how best to understand and pursue free speech and inclusion on college campuses. This is a fantastic opportunity to learn from experts, listen to the perspectives of others, and share your own ideas about free speech and inclusion.
We request that all registrants plan to attend both the panel and the small group discussions – the panel and small groups are designed to complement each other. Spaces are limited due to the number of trained DCI facilitators we have available to moderate the small group discussions. You may be placed on a waitlist if our capacity is reached; we will let you know if spaces open up. We will do our best to accommodate as many people as we can so please don't hesitate to get on the waitlist.
Panelists include:
Keith Whittington is the William Nelson Cromwell Professor of Politics at Princeton University. He is the author of Speak Freely: Why Universities Must Defend Free Speech (Princeton University Press, 2018) and numerous publications on American constitutional theory and history, judicial politics, and academic freedom, including "The Value of Ideological Diversity Among University Faculty" in Social Philosophy and Policy and "Free Speech and the Diverse University" in the Fordham Law Review. Professor Whittington received his BA from the University of Texas, Austin and his masters and PhD from Yale University.
Pareena Lawrence is Visiting Professor of Economics at Yale-NUS and a Senior Fellow at Yale University. She has served as the President of Hollins University and Provost at Augustana College. Professor Lawrence has extensive experience dealing with the nexus between inclusion and free speech on college campuses, which she discusses in an article she wrote for the Association of American Colleges and Universities, "When Core Values Collide: Diversity, Inclusion, and Free Speech." Professor Lawrence received her Master of Arts in Economics from the Delhi School of Economics and a Master of Science and Doctor of Philosophy in Economics from Purdue University.
Susan Brison is the Eunice and Julian Cohen Professor for the Study of Ethics and Human Values and Professor of Philosophy at Dartmouth College and, in 2021-22, Visiting Professor of Philosophy at Princeton University. She is the author of Aftermath: Violence and the Remaking of a Self, co-editor of Contemporary Perspectives on Constitutional Interpretation and Free Speech in the Digital Age, and has written extensively on hate speech, trauma theory, and freedom of expression, including, most recently, "Free Speech Skepticism" in the Kennedy Institute of Ethics Journal.
The panel discussion will be moderated by Davidson College Associate Professor of Philosophy Dan Layman.
Tickets for the forum are free, and registration will close on November 2. When you register please select the appropriate ticket type for yourself - Davidson students, faculty/staff, alumni, or community members. Some background materials about the topic, including a DCI Deliberation Guide for the event, will be sent out to registrants for your review before the forum.