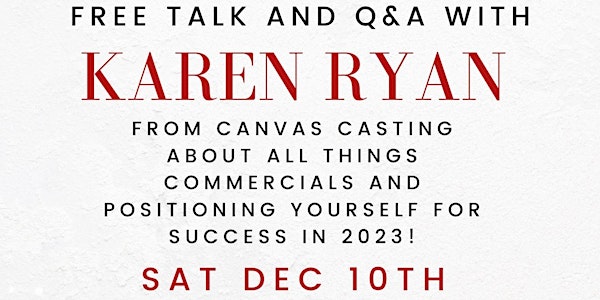 FREE SPECIAL TALK AND Q&A WITH LA'S RENOWNED CASTING DIRECTOR KAREN RYAN
You're invited ti a special, informal free Christmas talk and Q&A on Zoom with LA's Casting Director Karen Ryan from Canvas Casting!
About this event
To date Karen has cast hundreds of regional and national spots and many high profile music videos, and several award winning web series and short films. Karen is a proud board member of the Commercial Casting Director's Association. She has taught many workshops and classes over the years, and has always enjoyed being a mentor and advisor to actors at various levels of their careers.Discovering raw, untapped talent and watching their careers go from strength to strength has continued to be a major highlight of her casting career. Karen loves to meet new actors and is happy to receive their materials.
During this talk and Q&A karen will cover things like
How to hone skills for virtual commercial auditioning.
Discuss different various styles / spots.
Learn how to make good choices with commercial copy.
Learn how to bring your unique self to every audition
Q&A with Karen at the end of class.