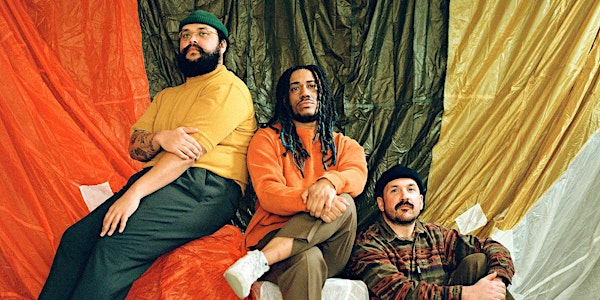 FREE SHOW: 81355
Presented by The Grey Eagle and Worthwhile Sounds
Location
The Grey Eagle
185 Clingman Ave
Asheville, NC 28801
81355 (pronounced "Bless") visit Asheville to make their Grey Eagle debuts on May 18th at 8pm! ALL AGES show.
About this event
Dehd has cancelled their show. Opening act 81355 will still be playing — this is now a FREE show!
COVID-19 POLICY: The artist requires all patrons attending this performance to provide proof of vaccination or negative test within 48 hours prior to the event. Patrons will need to provide physical or digital documentation of COVID-19 vaccination or negative test for entry. Masks are also strongly encouraged when not eating or drinking.
– 7PM DOORS / 8PM SHOW 
– ALL AGES
– STANDING ROOM ONLY
**DEHD have partnered with PLUS1 so that $1 per ticket goes to supporting the Climate Justice Alliance and their work uniting frontline communities and organizations into a formidable force in the climate movement.**
81355 is a voltronized collaboration between three of Indianapolis music scene's elder statesmen; Sirius Blvck, Oreo Jones, and David "Moose" Adamson. While the three have worked together in the past, contributing to one another's projects as cameos and guest production, this is the first instance in which they have bonded together from conception to execution. The result is the stunning and idiosyncratic debut album under the 81355 moniker, This Time I'll Be of Use.
These lucid wanderings amongst the street fires, sound like a cross between ghostly Jean-Michel Jarre swirling bossa nova steeped hip-hop beats with acrobatic and surrealist word-play delivered with sharp resolve. While dream-like in its metaphors and abstraction, it doesn't betray or surrender a present awareness and protest. When asked about the recording process they described it as intuitive, that they each were coming from a synchronistic space, reflecting on Black struggle in the pandemic-ridden and democracy faltering landscape of 2020.
As suggested in the title, they each see themselves entering a new chapter, and claiming a responsibility to bear witness, drawing inspiration from the likes of dancing biting poetic commentary of the late Naptown residents, Etheridge Knight and Kurt Vonnegut. These three musical vagabonds have met up to build a new world, finding even themselves surprised with the results, a collision of styles, moments of time, and cadences, but collaborative output is a sonic and lyrical tapestry rich with vision and style.
Simultaneously mystical and stark, dancing between different and better futures, alternative realities, yet never leaving this one, this travel through temporal realities and parallel universes is matched by the syncopation of both vocal and musical delivery that plays with rhythm, rhyme, melody and meter.