Description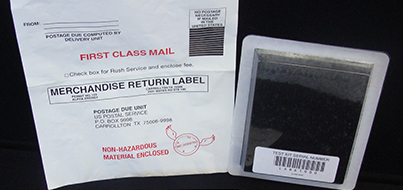 Test your home for radon with a FREE short-term Radon test kit (for Nevadans only)!
Frequently Asked Questions:
What is Radon?
Radon is a naturally occurring, radioactive gas that has no odor, color or taste and is produced by the breakdown of uranium in soil, rock and water. Uranium is found in all soils and in higher concentrations in granite, shale and phosphates. As it decays into radon gas, radon moves through the soil into the atmosphere, where it is harmlessly dispersed in outdoor air or can enter buildings through foundation openings and become trapped inside. When it enters a building, it can accumulate and present a health concern for occupants. Buildings other than homes can also have radon concerns (such as commercial buildings, schools, apartments, etc.).
Next to smoking, scientists believe that radon is associated with more lung cancer deaths than any other carcinogen. Since you can't see or smell radon, special equipment is needed to detect its presence. Do-it-yourself Radon test kits are relatively inexpensive and easy to use. They can be purchased and used by homeowners without outside assistance. Other types of test equipment are more technical and expensive and should only be used by specially trained people.
How is Radon measured?
Radon levels are measured in picocuries ("pee-co-cure-ees") per liter of air, often noted as pCi/l. This measurement describes how much radioactivity from radon is in one liter of air found in a home.
What is the EPA Action Level?
EPA and the U.S. Surgeon General strongly recommend that you fix your home if you have 4 pCi/l or more of radon in your home.
There is no known safe level of exposure to radon since lung cancer risk can result from low exposures to radon over long periods of time. Exposure to radon at the EPA Action Level of 4 pCi/l can pose a health risk. EPA based the 4 pCi/l Action Level on four factors: the health risk involved; the effectiveness of available mitigation technologies; cost-effectiveness to fix the radon problem; and the goal set by Congress to reduce indoor radon levels to as close to the outdoor level as possible. EPA's estimate of radon-related lung cancer deaths is based on the population of the U.S. exposed to the national average indoor radon concentration of 1.3 pCi/l over a lifetime. Existing mitigation technologies allow the radon level in most homes to be reduced to 2 pCi/l or less most of the time. The higher the exposure for a given amount of time, the greater the risk.
Additional EPA recommendation: To help minimize your risk, you should also consider taking action to fix your home if your radon level is between 2 and 4 pCi/l.
Which type of radon test kit do I use first?
A short-term radon test kit is recommended for the first test. This is a screening test to determine if there may or may not be elevated concentrations of concern.
In Nevada, the best time to conduct a short-term radon test is during the winter heating season months of November through March.
I have my first, short-term radon test results. Now what?
Your result is less than 4 pCi/l

If the test result is less than the EPA Action Level of 4 pCi/l, then no further action is required. However, if the test was done in the summer months and/or closed house conditions were not observed, we recommend testing again in the winter heating months when closed house conditions can be observed more readily. EPA recommends a home be tested every two years, and after remodeling or significant seismic activity occurs in the area.
EPA suggests that you consider mitigating the home if the annual average is between 2 and 4 pCi/l.
You might also consider a long-term test for a full year to determine that your average annual radon level is indeed below 4 pCi/l.
Radon is a health risk, and any amount of radon can pose a health risk. Determining whether to do something about any amount of radon is a personal decision and must be based upon health, as well as financial considerations.
Your result is between 4 and 8 pCi/l
For test results that are 4 pCi/l or greater, a second test is recommended. The type of test depends upon the result. The EPA Action Level is based upon an annual average, and although your result is now above the EPA Action Level of 4 pCi/l, because radon levels fluctuate, your annual average radon level may be below 4 pCi/l. Therefore, if your initial test result is between 4 and 8 pCi/l, we recommend conducting a second test, but this time, a long-term test for a full year to obtain the annual average. A full year is the definitive average annual radon level in the home, which is what the EPA Action Level is based on. (If you wish to conduct a second short-term test instead of a long-term test, then make a decision to mitigate based on the average of the two short-term tests.)
A year-long test is easier to conduct, in that you don't have to worry about keeping doors and windows shut during the test. A long-term test device is not susceptible to various environmental and lifestyle factors.
Your result is above 8 pCi/l

Perform another short-term test. Average both short-term test results. If your average is 4 pCi/l or higher, consider fixing your home.
How do I order a radon test kit online?
Under "Ticket Information," select the quantity of short-term radon test kits that you would like (only 1 free kit per order) and click "Order Now." You will receive a ticket in the mail as confirmation of your purchase. Your short-term radon test kit will arrive in a separate package. American Express, Discover, MasterCard and Visa cards are accepted for payment.
Why does the site say "Ticket Information" and "Event Details" when I'm not interested in a ticket to an event?
No need for concern! You are NOT buying tickets to an event. The Nevada Radon Education Program utilizes Eventbrite's hosting site to sell radon test kits. You will receive a ticket as confirmation of your purchase. Your short-term radon test kit will arrive in a separate package.
Why do the kits cost more online than at an office?
The test kit is free. The shipping charge is $4.00 and Eventbrite charges a fee for the use of their services.

What does the test kit include?
Radon test kits include a pre-paid postage mailer, a data sheet, detailed instructions and a pre-paid lab analysis. Once you are finished testing, place your kit and datasheet in the supplied mailer and mail it to the lab. The lab will analyze the sample and mail or e-mail you the results.
What if I prefer to pay for a kit via snail mail and a check?
Radon test kits may be purchased by mailing a coupon and check to our office. Visit http://www.unce.unr.edu/programs/sites/radon/testing/, print out a coupon and mail the $4 check or money order and coupon to the address provided.
How do I learn more about Radon?
Visit www.RadonNV.com or call the Radon Hotline at 1-888-RADON10 (888-723-6610) for more information.
The Nevada Radon Education Program
The Nevada Radon Education Program (NREP), supported by the EPA and Nevada Division of Public and Behavioral Health, was instituted in 2007 to educate the citizens of Nevada about the radon health risk.
NREP's goals are to educate Nevadans about the health risks of radon, encourage homeowners to test their homes for radon, fix radon problems, build new homes with radon-resistant new home construction techniques (RRNC) and test for radon when buying real estate. NREP offers literature, educational programs and radon test kits in most county Extension offices across the state.
Organizer of Free Short-term Test Kit ($4 shipping charge) for NEVADANS
University of Nevada, Reno Extension
Who we are: We are the outreach arm of University of Nevada, Reno. We design and deliver community programs to Nevadans in partnership with other agencies and volunteers.
What we do:  We learn about the needs of our community and develop programs to meet them. We teach classes, hold workshops and sponsor seminars related to those needs. We provide online information at no charge.
What we offer:  Education, training and instruction in: Health & Nutrition; Children, Youth & Families; Natural Resources; Horticulture; Community Development; and Agriculture.