FREE SHE Talks® - Public Speaking Workshop ((How to Captivate Your Audience...
Description

2018 is the year for women to embrace their authenticity and share their messages with the world!
. . . If you have a burning message and a desire to share it as a gift
. . . If you would like to get over something holding you back from speaking
. . . If you want to be surrounded by an exceptional community of women
You will love SHE Talks® FREE Public Speaking Workshop this Summer!
Learn Public Speaking Skills. Overcome blocks. Come with a message or borrow one. Turn your message into a talk. Work on your talk script. Create from scratch. Work on your presence and delivery. Ready made audience. Gain confidence. Professional Guidance. Mentor and Peer feedback. Chat over afternoon tea.
YOU CHOOSE WHEN TO SPEAK
. . . there's the possibility of some encouragement too!
There is no age limit or required level of experience or readiness.
Expect great people of different ages, cultures, learnings and abilities.
An opportunity to access the diverse opinions and wisdom in the room, in preparation for the diverse audiences you will get to deliver your message to.
The only requirement is that you have a burning message you need or want to share!
This is a MENTOR GUIDED GROUP for WOMEN by a Female expert!
The running of each Meetup is customised to each person's needs. Interactive activities and Lecture style, so remember to bring note-taking material!
The base structure is of skill building and self-mastery. There will be an activity for overcoming blocks such as, going blank/anxiety/resistances/what if I suck/what if I sound boring/who am I to say Im the expert/and so on.
The workshop starts with Introductions based around the rule of 3.
Breath work for voice projection and getting into 'state' exercises (similar, as used in theatre and yoga).
Talk structure, memorising tools, the science of behaviours/gestures/expressions, verbal & non-verbal communication skills.
These SHE Talks@ Public Speaking Workshops are jam-packed full of insights, skills, tools, steps and inspiration for being a great communicator!
SHE Talks ® is endorsed by #1 International Hall of Fame Speaker Tim Gard
Enjoy a chat after the workshop with a cuppa's and afternoon tea, embracing health and dietary requirements.
Guided by Public Speaker, Author, Writer, Behaviouralist, Mentor and Entrepreneur Fur Wale of SHE Talks®
ABOUT Dr. Fur Wale as a Mentor - Trainer "You will find me easy to follow and highly passionate. I give a wealth of transformative value. I am attentive to what you need in order to get you the break-throughs that shift you to the next level. I do the real work! I am outcome orientated. No fluffing about. I am-all-in and you need to be also, to be able to get to the finish line."
FEEDBACK
"Fur Wale has been invited to speak at many events with over 100 people, local Government, Mayor and Council in attendance, and deliver creative projects, all with one key purpose – to define what living on your own terms really looks like. While the topics she is requested to deliver may vary, what the audience is always seeking remains the same – to 'GET IT' Fur Wale always gifts her audience with the big Aha." Sandy Joffe CEO PPCG
WATCH this Testimonial from a SHE Talks® participant Charmaine Adam (SHE Talks Youtube Channel) https://youtu.be/skdBi7pHME8edback
FREE for Newcomers! ALL Women Welcome.
This will be a great opportunity to connect with other like-minded women and gain insights, strategies, inspiration and skills in Public Speaking.
EACH Workshop is unique. Designed to immerse you in the craft of Authentic Public Speaking and Authentic presence (no-old-school-cookie-cutter-training), to get you started, get you your next-step, plus, surround you with like-minded women.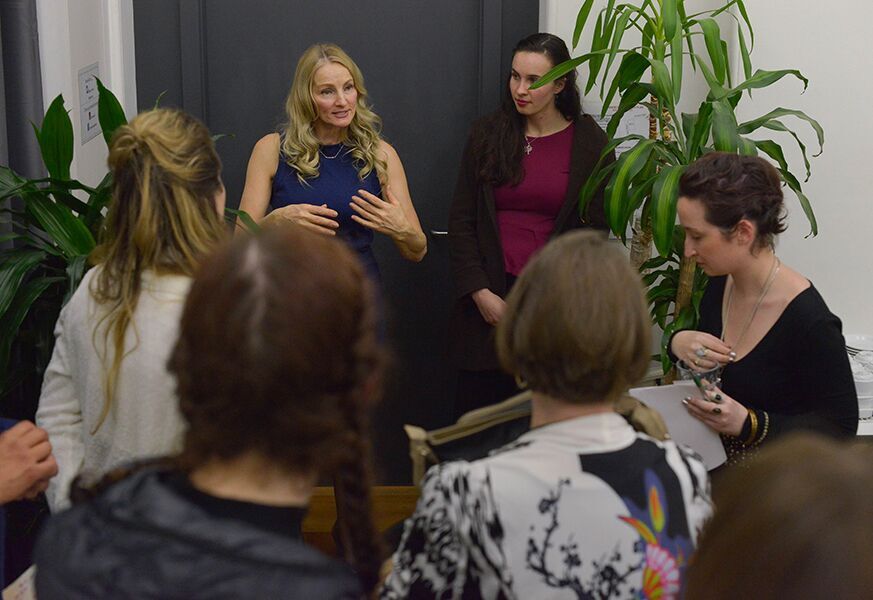 EACH Workshop runs differently based on the needs of participants. Including these practices and strategies at different times
* Overcome - remove blocks to speaking.
* Learn the skills and insider knowledge.
* Practices for deeper learning.
* Projection of voice
* Non-verbal communication
* How to turn your message into a talk.
* How to create from scratch.
* Presence and delivery.
* Understanding audiences.
* What to wear on stage
* Positioning your self in the room
* and many more!!!
"I look forward to finding out how I can best get you the outcome you need and want in Public Speaking, to get you out there with your burning message captivating audiences! It's going to be an exciting 2018!" ~ Dr. Fur Wale
REMEMBER to put the date and the address into your calendar!
ANY INQUIRIES
Add this number to your contacts 0406 417 463
---
BECOME A MEMBER
You will have fun while learning, absorbing and honing skills ADDITIONALLY become a MEMBER and receive the added benefits of *Guest speakers *Professional Photoshoots *Promotional footage *Speaking opportunities *Event access at discount or free *Discounted access to workshops
Be a free-member of this Meetup group online, to receive discounted and free tickets to speaking events.
AND Participate for FREE in a SHE Talks - Speakers Club House (Public Speaking) Meetup, to see if it is a fit for you! Never any obligation. Come along to the next one for FREE, and see what you think! Public Speaking is a rewarding lifestyle and there is a big call for women speakers! 2018 is going to be exciting! The next one is 04 FEB 1PM-4PM in South Melbourne.
Continue with the workshops by becoming a paid member. You will find that we are a friendly, easy going, diverse group, where you will receive lots of value and resources. Speaking opportunities, photoshoots, promotional footage and guest speakers included. You 'do' and interact as much as you are prepared to. SHE Talks has lots of professional resources, myself being one of those - as a professional speaker, my expertise is in overcoming blocks, deeper learning practices, structuring self-authored talks, copy-writing, pitches and TED style talks. MEMBERSHIP First one is FREE to newcomers - Membership is $68 for 3 workshops (value per workshop $297)
MORE INFORMATION SHE Talks® LinkedIn

Participant "Hi Fur, it was a wonderful experience yesterday. You have a beautiful energy, your heart is open and is demonstrated in the wealth of advice you offered. Thank you so much for your personalised attention. I see myself on TED stage as well. Looking forward to working with you to make it happen.
MEETUP ADDRESS South Melbourne Town Hall 208-220 Bank Street. South Melbourne. Entrance is through the side street FISHLEY STREET (automated glass doors) - there will be a welcoming face in the entrance where you will register.
REGISTER / RSVP Please let me know of any dietary requirements or preferences for afternoon tea.
PARKING REAL TIME PARKING SPACES & COST
PUBLIC TRANSPORT find your location
BRING
Note taking material

Your readiness

A friend - be each others accountability partner in the weeks to come!
SHE Talks® 'Authentically - Credibly - Expertly' Customised Public Speaking Platform for Women, delivered by a Female expert.