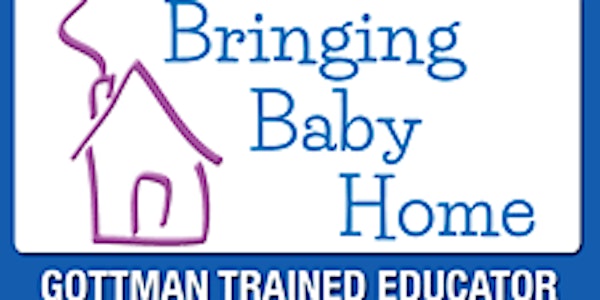 FREE SESSION THIS SPRING! Bringing Baby Home Workshops for New and Expecting Parents
When and where
Location
Sequence at the MCEA Conference Center 12 Taft Court Rockville, Maryland 20850
Refund Policy
Contact the organizer to request a refund.
Description
"BRINGING BABY HOME" Workshops are great for couples!
FREE SESSION THIS SPRING: Scroll down to learn more
About the Bringing Baby Home Program :
The state of the art program for couples, designed by nationally renowned couples experts John and Julie Gottman of the Gottman Institute, combines scientific research and public education to improve the quality of life for babies and children by strengthening their families:
"What now?" is the question most parents ask when they bring home a new baby. As exciting as the birth of a child can be, it can also be an incredibly stressful and tiring experience. Couples find it difficult to find the time and energy to focus on each other as they deal with this "new normal".
As a new or expecting parent, you and your partner will learn how to gain relationship satisfaction and create healthy social, emotional and intellectual development for your child. These carefully designed workshops allow you to follow along with the workbook (yours to keep) while you learn about how couples cope with these changes, what to expect for each other and yourself, and how to understand and connect with your child. Activities that you and your partner do together and with the group will enhance the learning and offer more than a few chances to laugh, gain a sense of empowerment, ask questions and get emotionally prepared in remarkable ways.
Promote Positive Parent-Baby Interactions

Promote Quality Involvement for Both Parents

Reduce the Incidence or Severity of Postpartum Mood Disorders

Maintain Relationship Satisfaction After Having a Baby
Research indicates that participation in this program has long lasting positive outcomes for parents and their babies, learn more by visiting:www.gottman.com/about-the-bringing-baby-home-program/
TRANSITION TO PARENTHOOD

Saturday May 20th 2017 10:00-11:45 am
One time only: FREE 90 MINUTE SESSION + A 15 minute Mindfulness Meditation for Parents to support Mindful Parenting

This class will help you understand the psychological, physical and emotional changes that accompany parenthood; how your relationship influences your children; and identify ways to maintain the friendship in your relationship with all these new changes. Lecture and discussion format. Our 90 minute Gottman program will be followed with a brief ( 15 minute) guided meditation as an additional tool for the soon-to-be parents!
Sequence is offering this special event to participants free of charge, with donations at the event accepted to support the international maternal health non-profit organization:
https://www.everymothercounts.org/
At this workshop we will also have numerous resources on Parenting, Couples and Transitioning to Parenting available for purchase, and information about upcoming programs to support parents & couples to create families that thrive!
Future Workshops in the series offered:

MANAGING STRESS AND CONFLICT RESOLUTION
When: TBD FALL 2017 or by private coaching session
The stress of parenting adds an additional layer of complexity to an already busy life. This workshop will help you identify the warning signs of stress, learn about effective and ineffective ways to manage your stress, and most importantly tools you can use to soothe your children after you have an argument. Lecture and discussion format.
EMOTIONAL COMMUNICATION AND CHILDREN
When: TBD Fall 2017 or by private coaching session
The emotional development of babies and children is critical to their overall wellbeing. It is not uncommon for parents to feel overwhelmed in satisfying the emotional needs of children. This workshop will help you in learning the five basic steps of emotional coaching that will get you to be more in tune with your children and help them develop a range of emotional experiences. Lecture, Discussion and Video.
Location, Parking and Accessibility:
Sequence Counseling and Consulting Services is presenting this event at the
MCEA Conference Center in Rockville
12 Taft Court, Rockville, MD 20850
The May 20th workshop is offered in Conference Room A of the MCEA Conference Center in Rockville. Taft Court intersects with Gude shortly after the intersection of Gude and Norbeck Rd. The center is in a 2 story brick building towards the end of the street. The MCEA logo with a large red apple is on the front of the building. Please follow signs to the right side entrance and enter under the awning with signage "MCEA Conference Center for Leadership and Learning". We are meeting in a first floor conference room.
Light morning refreshments will be served.
Items for purchase will inlcude books and materials regarding the Gottman Couples program and Parenting.
Parking available by the buildings side entrance.
SEQUENCE PRESENTERS:
Anchal Khanna MS, LCMFT is a licensed clinical marriage and family therapist with over thirteen years of experience as an individual and couples therapist, group facilitator and trainer. She works with adults from diverse backgrounds who are concerned about a range of issues.
Anchal has completed the advanced level of the Gottman method of couples therapy. She is certified as a Gottman Educator to facilitate a program for new and expecting parents that helps them sustain their relationship and be effective parents. A mother of two girls, Anchal is delighted to offer the Gottman workshops to expecting parents and new parents!
Anchal Khanna, MS, LCMFT Individual, Couples and Group Therapist, Certified Gottman Educator Phone: 240-200-5401 ext 711, Email: akhanna@sequenceservices.com
Gabriel Chernoff MSW, LCSW-C , is a skilled therapist working in the Greater Washington area for over 16 years, who enjoys working with individuals and groups, and most often he can be found counseling couples. Gabriel's training includes a Bachelors degree from American University and Masters Degree in Social Work from the University of Chicago.
Adding to the educational mix are many years of training including the renowned Gottman Style of Couples Therapy. He attended the Gottman Institute in Seattle in 2013 where he received the distinction of becoming a Certified Gottman Educator of the Bringing Baby Home Program.
Himself a father of a son and daughter, Gabriel brings warmth, humor and a clear perspective on the challenges couples face with the birth of their first child. He welcomes the opportunity to guide you through this period of transition with information that will make things much smoother.
Gabriel Chernoff, LCSW-C Individual, Couples and Group Therapist, Certified Gottman Educator Phone: 240-200-5401 ext 706, Email: gchernoff@sequenceservices.com
For Registration Questions Please Contact:
240-200-5401 ext. 3, or email info@sequencservices.com
NOTE: This program is offered in this setting for couples. Same-sex partners and couples adopting an infant are welcome. Babies (pre-crawlers ideally) are welcome too!!
If you are interested in scheduling an individual couples session, please contact Gabriel Chernoff LCSW-C or Anchal Khanna LCMFT at the numbers listed above to discuss this option.