Free Seminar: What Supplements are Right for You?
About this event
Please join our FREE workshop to get important information and recommendations on what you need personally to thrive and improve your health and energy level. We will discuss the various types of supplements including vitamins, minerals, homeopathic remedies, herbs, greens, protein powders, and more!
Thursday, June 10th from 5:30pm-6:30pm
WellCome OM Integral Healing & Education Center
Inside the Conscious Market (Heal building)
4242 Lake in the Woods Drive
Spring Hill, FL 34607
352-600-4242
About the Presenter:
Diane Friedberg's 30 year career span has been in both the holistic healing arts, as well as the corporate business arena. Her background includes life, wellness, oncology, and HeartMath coaching, program development, energy work, seminars, management, marketing, and public relations. Diane is a graduate of The Coaches Training Institute, studied with The American Holistic College of Nutrition, is a certified HeartMath Coach, and is a certified Reiki practitioner.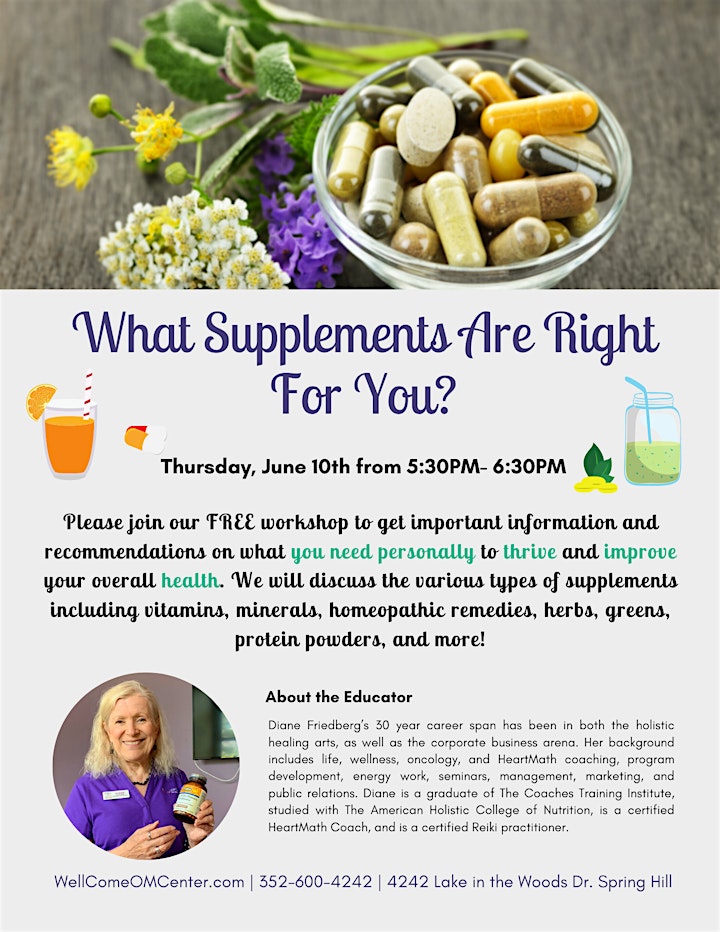 Organizer of Free Seminar: What Supplements are Right for You?
The Wellcome OM Center consists of three buildings nestled on six acres of land among beautiful gardens, pathways, and natural habitat to promote an eco-friendl
y and sustainable environment.

Dr. Maria Scunziano- Singh is on a mission to embrace and educate fellow humans individually and collectively in harmony for the attainment and sustenance of health, peace, and fulfillment in life by providing instruction and guidance on how to achieve successful outcomes in all aspects of living.

This center is created to help all who come, especially young women and men (young in heart and mind), enhance their minds and bodies for all current and future endeavors!