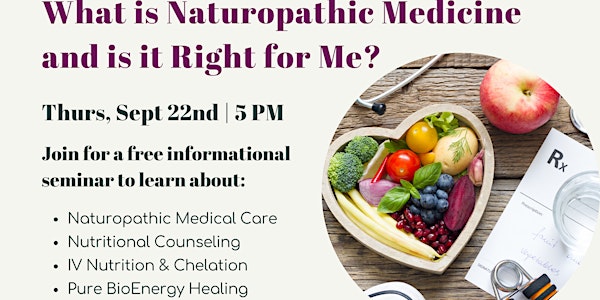 Free Seminar: What is Naturopathic Medicine and is it Right for Me?
Join for a free informational seminar to learn about Naturopathic Medical services offered at Integrative Healing at OM in Spring Hill, FL.
When and where
Location
WellCome OM Integral Healing & Education Center 4242 Lake in the Woods Drive Spring Hill, FL 34607
About this event
Join for a free informational seminar to learn about:
• Naturopathic Medical Care
• Nutritional Counseling
• IV Nutrition & Chelation
• Pure BioEnergy Healing
About Dr. Maria Scunziano-Singh
Dr. Maria is a board-certified physician with a medical degree from New York Medical College who also holds a diploma from Clayton College of Natural Health as a naturopathic medical doctor.
She approaches all matters of health in a holistic manner and applies integrative techniques with a strong emphasis on nutrition and lifestyle strategies. Versed and continuously educating herself in the Macrobiotic philosophy, Dr. M knows the huge value that these concepts play in true health. She advocates cooking with Macro principles and considers it fundamental to proper balance and wellness. Dr. M emphasizes whole patient wellness – taking into consideration the unique physical, mental, emotional and spiritual state of each patient.
About Integrative Healing at OM:
The care provided at Integrative Healing blends traditional and modern techniques in health care with a focus on you as a complete and powerful being. You have the capacity to transform illness into wellness, from better to best health and incompleteness to a newfound universe in health.
With evidence-based, clinically researched science and techniques practiced for thousands of years, our practice will provide you with comprehensive, compassionate, and gentle care. Every aspect of your life is valued and examined by a naturopathic medical doctor, emphasizing lifestyle and nutritional approaches to maximize your healing potential.
352-254-8090
4248 Lake in the Woods Dr. Spring Hill, FL 34607
www.integrativehealingatom.com
wellcomeomcenter.com