FREE Seminar: Tax Planning (RSVP Only Event.)-ATLANTA
Description
Learn and Implement a custom strategy

on

your TAX Planning that will help your current and future finance!
IMPORTANT NOTE: RSVP Only Event. Seats are Limited!
( No purchase required at the seminar. Our goal is to SHOW you the value.)

I'm bringing TOP industry leaders who have been revealing the strategies and helping their Elite client (high-income and high-net-worth) for last 12 years. They will show you precisely how you can get the benefits.
Topics of discussion
Tax Reforms - Overview of tax law changes.
Learn Most commonly and highly effective strategies used to reduce W2 Income tax and Business income tax.
What are Foreign non- compliance you might face for having a bank account outside the United States?
Learn how to optimize Property and Mortgage Tax deduction.
Learn how to reduce State income tax (if employed out of state).
Learn how to pay Zero capital gain on sales of a business or Property in USA or India.
Benefits/VALUE:
Schedule one-on-one FREE consultation after the seminar with a certified professional to see the VALUE.
Guarantee( Company 's)
"If another CPA reduces even $1 lawfully in tax worked out by our firm, based on information provided by the client, we will refund 125% of our fees".
(This Guarantee is subject to the terms that will be emailed to you once you register and attend the seminar)
Who should attend this seminar?
Engineers, Medical Professionals, and IT Professionals
Business Owners
Independent Contractors

Retail and wholesale businesses including Motels, Salons, Restaurants, Gas Stations, Schools, Movie Companies, Construction, etc.
If you are a CPA, Financial Adviser or Accountants or Tax attorney, please email me directly for more information.


RULES:
CPA. Financial Adviser and Accountants need to disclose their profession before attending the seminar.
KIDS are not allowed in the seminar.
Only One FREE entry to the Seminar per household per year. Organizer holds the rights to cancel your reservation if she finds you have attended one of her previous seminars.
Organizer holds the rights to cancel the events If she doesn't get enough confirmed attendees.
You must be residing in the USA.
You must be a taxpayer.
Photos, Videos, Social Sharing and Recording strictly prohibited.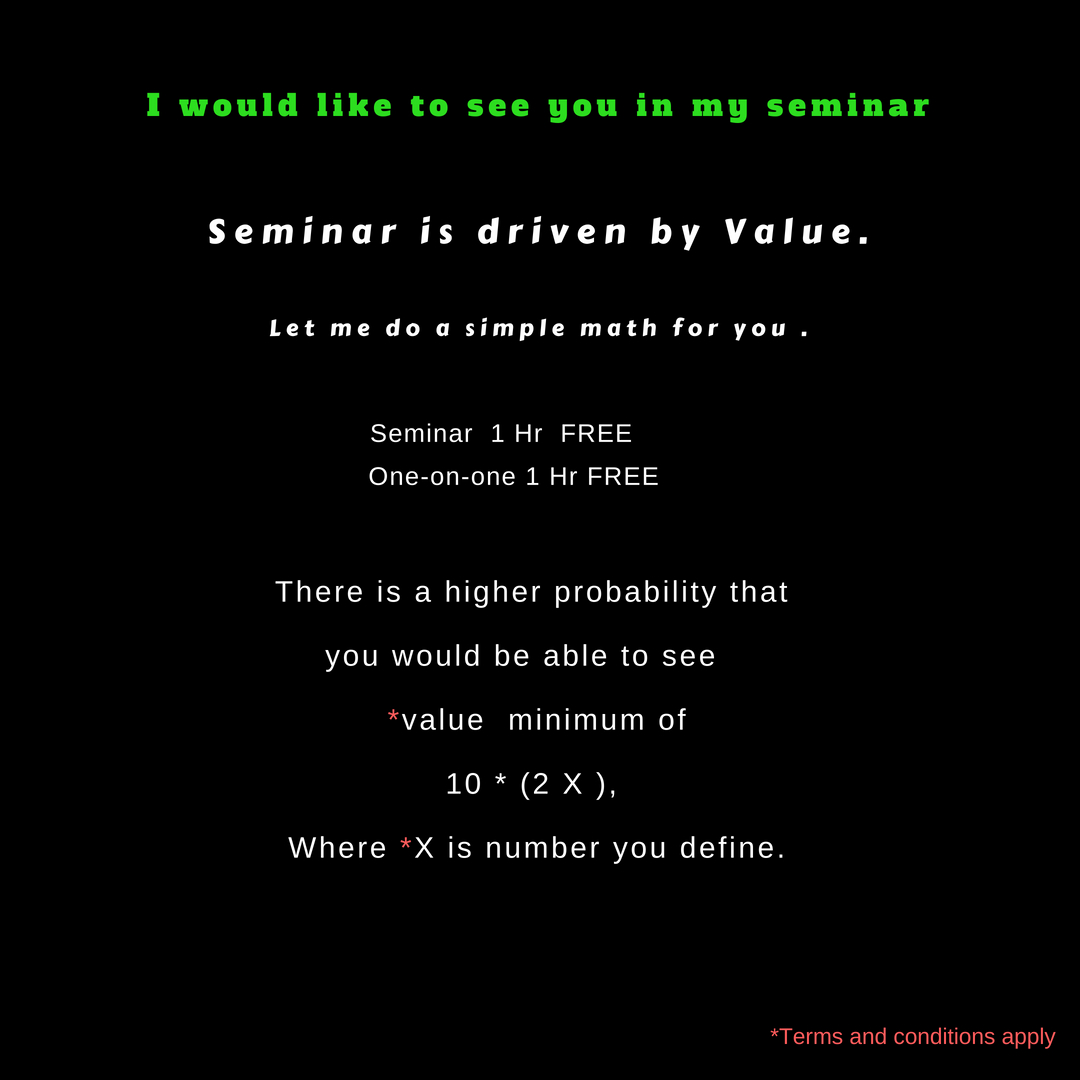 What are my transportation/parking options for getting to and from the event?
Parking is FREE.
---
Agenda:
5 PM - 5:30 PM Meet and Greet
5:30 PM - 6:30 PM --Seminar ( Door will be closed@ 5:35 PM Sharp.)
6:30 PM - 7 PM Q&A
Agenda:(19th Aug & Sept 23rd)
10 AM - 10:30 AM Meet and Greet
10:30 AM - 11:30 AM Seminar (Door will be closed @10:35 AM Sharp)
11:30 AM - 12 Noon Q&A
Dress Code: Business Casual
------------------------------------------------------------------------------------------------------------------------------------------------------
Information Below this line is used by The organizer.
------------------------------------------------------------------------------------------------------------------------------------------------------Income tax Return, Financial Advisor, Tax Help, free tax return, financial planning, etax filing, tax extension, retirement planning, insurance

#Incometaxreturn #Financial advisor #Taxhelp #FreeTaxreturn #FinancialPlanning, #etaxfiling, #taxextenssion, #retirement planning #insurance