Description

We need to understand how Hadoop is impacting the world. It has completely changed the mindset of all the software professionals around the world. Since Cloudera launched in 2008, Hadoop has spawned dozens of startups and spurred hundreds of millions in venture capital investment since 2008. Major companies which are working with Hadoop or using Hadoop Technology are
Amazon Web Services
Cloudera
Hortonworks
IBM
Intel
Microsoft
Pivotal Software
Teradata
So basically Hadoop has impacted a lot in the financial sector also .It has also created a new window of income for software professionals. It has impacted the salaries of fresher's and professionals .Let's see on what factors it depends .Your paycheck depends on a number of factors, could be anything from 5 LPA - 25 LPA at 2-3 years of work experience.
The average salary for a Hadoop Developer in San Francisco, CA, is $139,000.A Senior Hadoop developer in San Francisco, CA can earn over $178,000 on an average.
Years of experience in industry (even if you didn't work on Hadoop before)
College from which you got your bachelors/master's degree
Paying capacity of the company, counter offers you have, your negotiation skills
Hadoop certifications are a plus. Employers care more about your programming, data structures, algorithms, and basic CS skills first before looking at the certifications, without them they don't add much value.
Open source contributions are a plus.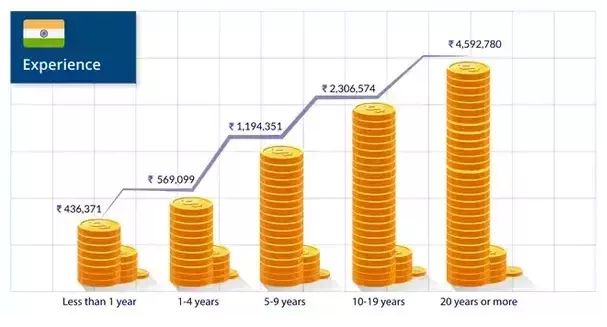 How to become a Big Data Developer?
Skills You Need to Become a Big Data Developer
Entering the field of Big Data requires some basic skillsets. Look through them before you dig into the field.
Problem Solving Aptitude
Big data is emerging and there are new technologies evolving everyday. As you dwell in the domain of big data, a new technology will come your way with every passing day. Therefore, to become a successful Big Data Developer, you should be a natural problem solver and tinkering with different tools and techniques should be your forte.
Data Visualization
Big data comes in various forms, e.g. unstructured, semistructured, which are tough to understand.Therefore, to draw insights from data you need to get your eyeballs onto it. Multivariate or logistic regression analysis may be useful for a small amount of data but the diversity and quantity of data generated for a business necessitates the use of data visualization tools like Tableau, d3.js, etc.
Data visualization tools help reveal hidden details that provide critical insights to drive business growth. Furthermore, as you progress in your career as a Big Data Developer, you grow up to become a Data Scientist or a Data Artist when being well-versed in one or more visualization tools is a practical requirement.
Data Mining
Data mining is a critical skill to be possessed by a Big Data Developer. Unstructured data comprise a huge amount of Big Data and data mining enables you to maneuver such data and derive insights. Data mining lets you sift through all the unnecessary and repetitive information in your data and determine what is relevant and then make use of that information to assess and predict outcomes.
SQL and NoSQL
Working with Big Data means working with databases. This mandates the knowledge of a database querying language. As a Big Data Developer, you should be aware of both SQL and NoSQL. Although, SQL is not used to solve all big data challenges today, the simplicity of the language makes it useful in many cases. Gradually, distributed, NoSQL databases like MongoDB and Cassandra are taking over Big Data jobs that were previously handled by SQL databases. Therefore, the ability to implement and use NoSQL databases is a must for a Big Data Developer.
General Purpose Programming
As a Big Data Developer, you need to code to conduct numerical and statistical analysis with massive data sets. It is essential to invest money and time to learn programming in languages like Java, C++, Python, Scala, etc. You need not master all of the languages. If you know one language well, you can easily grasp the rest.
Apache Hadoop
Hadoop is an indispensable technology for Big Data. Many-a-times, Hadoop is mistaken to be synonymous to Big Data. It is essential to be a master in Hadoop to become a Big Data Developer. The knowledge and experience of core components of Hadoop and related technologies such as HDFS, MapReduce, Flume, Oozie, Hive, Pig, HBase, and YARN will render you high in demand.
Apache Spark
Spark is also an important technology to consider for big data processing. It is an open source data processing framework developed around speed, ease of use, and sophisticated analytics. Of course, Spark is not a replacement of Hadoop rather it should be looked at as an alternative to Hadoop MapReduce. Spark runs on top of existing HDFS infrastructure to provide enhanced functionality and it also supports the deployment of Spark applications in an existing Hadoop v1 cluster (with SIMR or Spark-Inside-MapReduce) or Hadoop v2 YARN cluster or Apache Mesos.
Understanding of Business
After all, the main motive to analyse and process big data is to use the information for business growth. Hence, domain expertise empowers Big Data Developers to identify opportunities and threats relevant to the business and design deploy the solutions accordingly besides communicating the issues effectively with different stakeholders.
REGISTER HERE: FOR ATTENDING THIS FREE SEMINAR AT RHOMBUSLABS
Who is the target audience?
Software engineers and programmers who want to understand the larger Hadoop ecosystem, and use it to store, analyze, and vend "big data" at scale.
Project, program, or product managers who want to understand the lingo and high-level architecture of Hadoop.
Data analysts and database administrators who are curious about Hadoop and how it relates to their work.
System architects who need to understand the components available in the Hadoop ecosystem, and how they fit together.