電影《大稻埕》免費欣賞 Free Screening "Twa-Tiu-Tiann" 台灣小吃選購 Taiwanese Snacks Optional
Event Information
Location
Taiwanese American Center of Northern California
4413 Fortran Court
San Jose, CA 95134
Description
「寶島都會篇」1《大稻埕》
【內容簡介】
《大稻埕》Twa-Tiu-Tiann
2014∣128min∣彩色∣劇情片∣國、臺語發音

在朱教授的設計下,佑熙無意間穿越到1923年的大稻埕,在那他結識神似自己過世母親的布店老闆娘阿純,以及正在追求她的年輕朱教授。佑熙開始了他在布莊的打工生活,並邂逅了藝旦阿蕊。朱教授與佑熙用「現代」的方式,在這蔣渭水提倡平等的年代裡替布莊招攬生意,然而,朱教授設法賺錢,居然是要替染上毒癮的阿純支付鴉片費用。佑熙從鴉片館救出阿純並點醒了朱教授之後,卻引發出新的紛爭,佑熙不禁擔心,歷史可能要改寫了。
影片透過魔幻的方式,在重述歷史的過程中,貫串典型的臺灣精神,並巧妙融合時下流行的影視語言,在通俗形式傳遞歷史訊息的同時,成了時下臺灣電影與流行文化的集合縮影。

導演
葉天倫
1975年生,導演、演員、編劇、電視節目主持人,更因聲音的多樣化,成為臺灣一線廣告配音員。電視劇也深受口碑與收視肯定。2010年導演電影《雞排英雄》創下破億票房,並榮獲「美國GIFF關島國際影展—最佳劇情片」。《大稻埕》則引起話題,亦為春節檔期票房冠軍。
【活動大綱】(Agenda)
5/5/19 Sunday 週日下午一時入場
1:30pm-1:45pm Intro
1:45pm-3:53pm Screening
3:53pm-4:45pm 編劇報告+QA/Social/Cleanup

【地點】北加州台灣會館(請上二樓)
Address: 4413 Fortran Court, San Jose, CA 95134

【語言】English (and Chinese) subtitles, the event is conducted in Mandarin Chinese(本場以中文主導, English translations available if needed)

【預告片】https://youtu.be/JcGosw-1k0I
【預告片(天光篇)】 https://youtu.be/Zc3nU0_S9sM

【報名】https://twt_ttt-sanjose.eventbrite.com
請在Eventbrite免費報名以便收到E-mail提醒,並幫助我們估備座位, thanks! 額滿截止。

享受限量台灣小吃,請準備小額現金幫忙負擔成本及清潔開銷。
【特約嘉賓】編劇/監製 葉丹青 會到場以標題「大稻埕的1920黃金年代 /
影像中的大稻埕」做專題分享;另有管弦樂作曲家 石青如 老師出席,⋯
電影插曲《破曉—大稻埕的天光》https://youtu.be/zTfMHkACHgk?t=592
鋼琴小提琴雙協奏曲 第四樂章 (石青如 作品,2010/10/4 臺灣國家音樂廳演出)
【主辦單位】北加州台灣會館台灣學校,雙向影藝會社
【協辦單位】北加州台灣大專校友會,北加州南灣台灣同鄉會
歡迎參觀台灣學校網頁:https://www.facebook.com/SJTaiwanSchool/
歡迎加入雙向影藝會社fb群組,關心最新台灣影片放映行動!https://www.facebook.com/groups/TWtheater/
Twa-Tiu-Tiann
2014∣128min∣Color∣Fiction∣Mandarin, Taiwanese

College student Yo-si unexpectedly travels 100 years back in time with an eccentrichistory professor. Not only does Yo-si get to experience firsthand the imperial glory ofthe Japanese Empire and Twa-Tiu-Tiann, the most prosperous area in Taipei as it wasin the 1920s, but he also falls in love with the prettiest geisha in town. However, Yo-simust unwillingly return to present-day Taipei when he becomes involved in a secret mission concerning the royal visit of Japanese crown prince Hirohito.The movie is permeated by a typical Taiwanese spirit that recapitulates history in a fantasy-like style. At the same time, it cleverly blends popular catch phrases from
films and TV programs into its story. The movie epitomizes how popular culture in Taiwan uses fashionable references to convey historical messages.

Director
YEH Tien-lun
Born in 1975, YEH is a director, actor, screenwriter, TV show host, and even a first-class voice actor for commercials in Taiwan due to the versatility of his voice, while his TV dramas are hugely popular with audiences. YEH's film Night Market Hero was the highest grossing Chinese New Year film of 2010.
紙版海報,歡迎張貼佈告: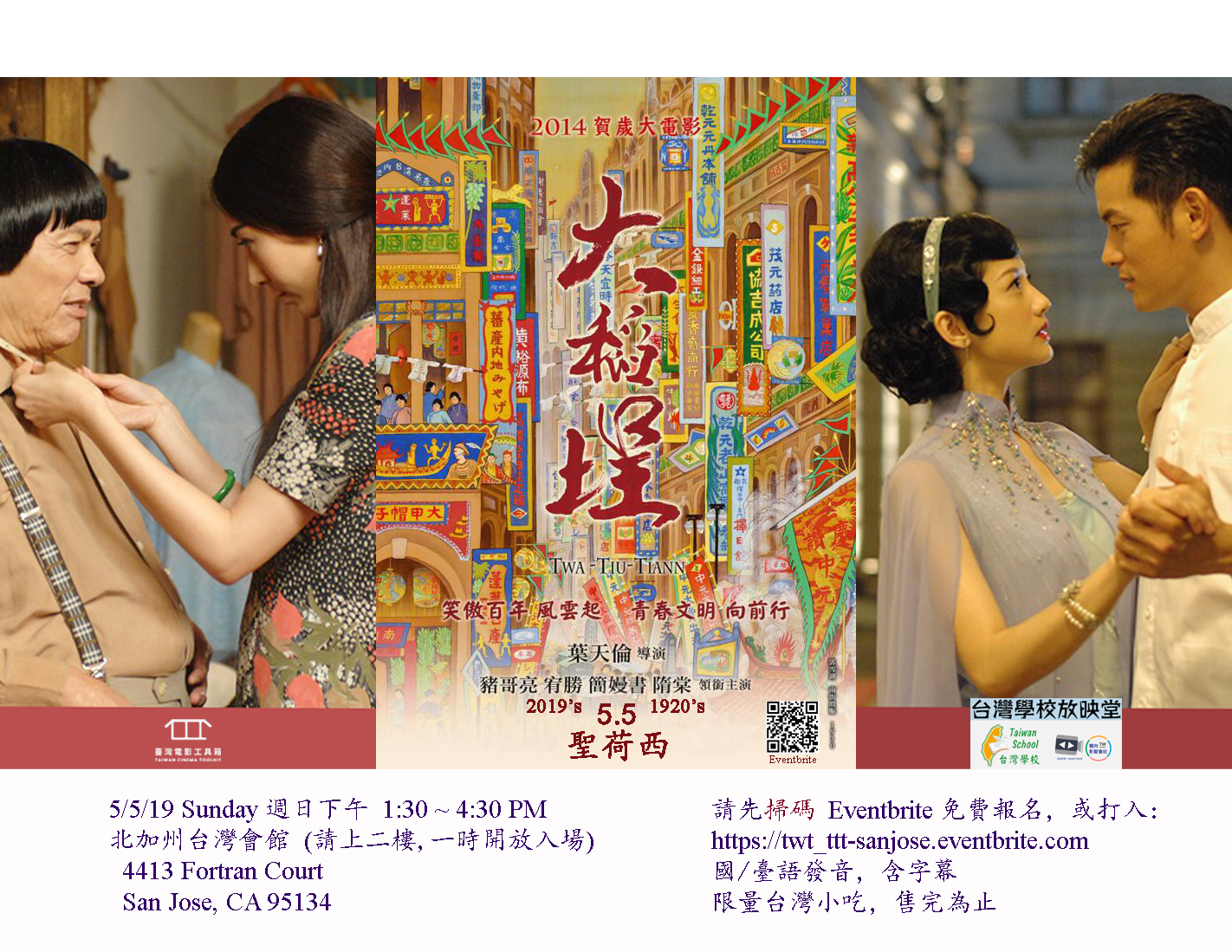 Date and Time
Location
Taiwanese American Center of Northern California
4413 Fortran Court
San Jose, CA 95134